By Ann K. Williams
Staff Writer
March 26 -- Fans of Fox's hit show House got a special treat Saturday night when Hugh Laurie and his crew showed up to receive an award at Saturday's gala awards ceremony and fundraiser for the American Red Cross of Santa Monica.
A crowd of 350 festively attired supporters celebrated the local organization's 90th anniversary under the sparkling chandeliers of the Fairmont Miramar, where they mingled with the stars and vied with one another in silent and live auctions that raised an estimated $50,000 for the charity.
Hugh Laurie (Photos courtesy of Red Cross unless otherwise indicated)
Presenting the Red Cross Spirit Award to the cast and creators of House, City Council Member and philanthropist Bobbie Shriver drew a parallel between Dr. House and Red Cross founder, Clara Barton.
"'I have an almost complete disregard of precedent, and a faith in the possibility of something better,'" Shriver quoted Barton. "'It irritates me to be told how things have always been done. I defy the tyranny of precedent. I go for anything new that might improve the past.'"
(From left) Council member Pam O'Connor, College Board member Nancy Greenstein, Jean Ann Holbrook, Council member Bob Holbrook and SAMOHI sophomore Steve Prado. (Photo by Ann K. Williams)
"We've chosen 'House' because it reflects our mission to teach people to save lives," according to a statement from the Red Cross. "In the show, Dr. House is a maverick medical genius who goes to extraordinary lengths to diagnose and treat unusual" conditions.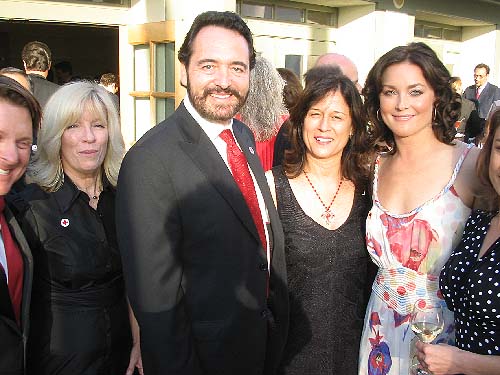 (From left: Judy Beck, co-chair of the Red Tie Affair committee; celebrity chef Nick Stellino; Marcia Caldirola, Red Cross Director of Development, and Liz Rohm from "Law and Order"
True to character, Laurie was a somewhat reclusive presence at the event, stepping out for some fresh air while Jennifer Morrison (Cameron), Jesse Spencer (Chase) and Omar Epps (Foreman) turned on the charm as they mingled with the guests at the "red tie" affair.
The crowd was peppered with red dresses, ruffles, bangles, even baseball caps. Laurie wore red socks, while Morrison was fetching in a red cocktail dress as she circulated on the arm of her real-life fiancé, Spencer.

Malissa Shriver and Council member Bobby Shriver
TV doctors weren't the only ones recognized Saturday night.
Obstetrician and gynecologist Lisa Masterson was honored for Maternal Fetal Care International's work with in Ghana and other impoverished areas. She founded the Santa Monica based organization to provide medical care for mothers and children around the world.
Also receiving an award was Dr. Janet Salomonson, medical director of the Cleft Palate Center at Saint John's Health Center. She travels the world overseeing cleft team care.
And Santa Monica Police Department Detective Don Doss was recognized for his work combating elder abuse. He was given the Rick Crocker Spirit of Voluntarism award, named in honor of the Santa Monica police officer killed in Iraq in 2005.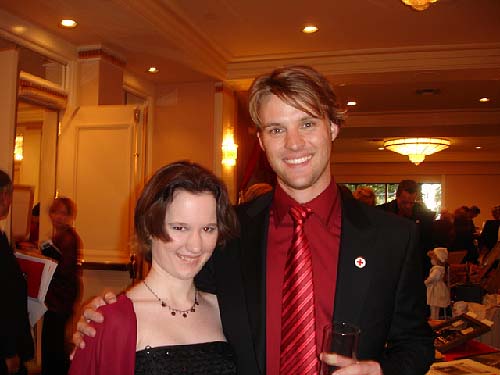 Jesse Spencer with fan Etha Williams (Photo by Ann K. Williams)
Even the celebrity guests got into the action at the live auction following the awards. As the evening wound to a close, Spencer was seen carrying a vintage surf poster he'd admired.
The Grateful Dead beat out the Rolling Stones by nearly a thousand dollars, when their signed guitar was snapped up for $2,500. And autographed surgical scrubs from the set of Grey's Anatomy went for $500 to an appreciative fan.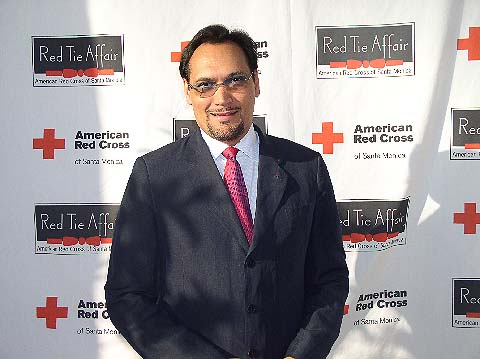 Actor Jimmy Smits
Auction proceeds will support the Red Cross of Santa Monica's mission to provide health and safety education and disaster awareness and relief.
Those interested in donating to the Red Cross http://www.redcrossofsantamonica.org/ should call (310) 394-3773 or visit their office at 1450 Eleventh Street.