By Olin Ericksen
Staff Writer
March 1 -- With polls suggesting nearly half of Santa Monicans earn some living in creative fields, the City Council Tuesday applied the first broad strokes to an expanding creative canvass and took steps to halt the exodus of a century-old community of independent artists.
Entitled "Creative Capital," the long-range cultural plan provides the first vision in ten years on how to market, enhance and sustain a cultural community that not only brings art into the daily lives of Santa Monicans, but promises future economic opportunity, City officials said.
"I just want to concur that this report rocks," said Council member Kevin McKeown.
McKeown -- who described as "astonishing" the finding that 43 percent of Santa Monicans earn some of their income from creative endeavors -- said he favors boosting funding for the arts, especially to help the smaller, independent artists.
"I've long felt we have not put enough resources into the arts," said McKeown, who has long called for more creative spaces for local artists.
"It's really been about identifying the community's connection to the arts and culture and making sure it can move forward," Jessica Cusick, the City's Cultural Affairs manager said of the plan before the meeting.
As she spoke, a feather boa around her neck, a string quintet from Santa Monica High School played on the City Hall veranda during a well-attended reception.
Samohi string quintet (Photos by Olin Ericksen)
The added flair was one of the many artistic touches that accompanied the report's presentation, including a scroll presented to council members at the meeting.
"It's both ambitious and also there are some immediate opportunities," said Cusick, who along with artists, writers and musicians turned out to support the plan.
"Whether you are an individual artist trying to live here or a firm trying to have your company here, this affects all sections of the arts," she said.
After several years of outreach, including 14 public meetings and workshops, and a random telephone survey, consultants found that 43 percent of all Santa Monicans worked in some capacity in the creative arts, compared to 2 percent nationally.
Those Santa Monicans are among the 1 to 1.5 million residents in Los Angeles County who earn money in creative fields, according to a report released this week by the LA Economic Development Corporation.
After weighing additional demographic data and 2000 census figures, consultants broke down the creative fields in which Santa Monicans earn money as follows:
20 percent are writers,
20 percent work in graphic arts, most of them independent artists,
16 percent work in design, which includes fashion and interior design,
13 percent work in movies or television,
10 percent work in music, and
7 percent in dance.
The rest work in a number of creative fields.
The poll also found that 9 percent of the jobs in the city are in the creative sector, including jobs at Sony Music, MTV and Yahoo!, which are headquartered in Santa Monica.
"It may be writers, it may be designers, it may be visual artists, but they are working somewhere, somehow in the arts," Cusick said.
From expanding public and private partnerships and cultural festivals, to marketing the local art scene to residents, the first steps of the plan will focus on those goals that can be accomplished in the near future, according to the report.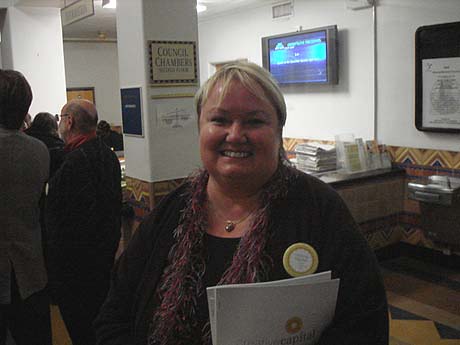 Jessica Cusick
The plan also calls on the City and community to capitalize on its local talent and provide affordable spaces for artists pushed out of the city by escalating rents.
"One of the biggest issues threatening the arts in Santa Monica is the high cost of real estate," Cusick said. "We've lost a number of artist studios over the years.
"It's been very challenging for artists to find a space that you can afford, so affordable artist live-work spaces are one of the key recommendations of the plan," she said.
Helping independent artists is a wise economic move for the City, which would reap the benefits, Cusick said.
"On some level, if our economics are substantially impacted by the creative sector, the individual artists are like the research and development (arm) of that sector," she said. "So not only do they make Santa Monica a better place to live, but economically speaking it's very important as well."
If the City is to help reverse the dramatic exodus of independent artists, it will need to focus on new zoning guidelines as it updates the land use element of the general plan, a process currently underway, officials said.
Rising real estate prices are not only driving out the fine artists, they have shut down all but two of the 30 galleries that once made Broadway and Colorado Avenue thriving gallery rows, said William Turner, a local gallery owner.
Turner, who owns a gallery at Bergamot Station, a cluster of galleries and art-related businesses next to the City Yards, warned that rising rents could threaten the remaining art scene.
"We need to read the warning signs," said Turner, who estimates the average rent at Bergamot is $1.50 a square foot, or between $2,500 and $6,000 a month depending on the size of the space.
While Bergamot focuses on the visual arts, the City must help provide venues to showcase all types of artists in Santa Monica, the report suggests.
The proposed Civic Center development could be a prime venue for the arts, and the alley walls behind the Third Street Promenade -- which could get a facelift under a plan being considered by Downtown officials -- could serve as canvasses, according to the report.
Council members hailed the report as a groundbreaking achievement and said they would work to follow through on the recommendations.
The council may have already taken the initial steps last year, when it approved a measure that sets aside some 2 percent of development fees for cultural services.
Council member Bobby Shriver suggested that the City partner with some of the large corporations, such as Yahoo!, which may have resources available to fund cultural endeavors.
Yahoo! Music Executive David Goldberg, a friend of Shriver's, told the council that he felt his firm could be more supportive of local artists, but "just hadn't been asked."
The plan's recommendations will go before various civic bodies, including the Arts Commission, and will be weighed as the City updates the land use and circulation elements of the general plan, which will shape development for years to come.
Capitalizing on local talent, encouraging growth and retaining artists already here will be the most important brush strokes for a City whose artistic community dates back more than 100 years, Cusick said.
"People have told us time and time again that they see the cultural identity in the City being inextricably tied to what makes Santa Monica special and unique," she said.