By Olin Ericksen
Staff Writer
November 21 -- Despite showing little remorse, George Weller will not go to jail for killing 10 people and injuring 63 when his Buick plowed through a crowded Santa Monica farmers market in July 2003.
Instead, Superior Court Judge Michael Johnson on Monday reluctantly sentenced the 89-year-old Santa Monica resident to five years probation and nearly $100,000 in fines.
Although convicted of 10 counts of vehicular homicide October 20 in what is reportedly the worst traffic accident in Santa Monica history, Weller was spared from serving time behind bars by his advanced age and deteriorating health, Johnson said.
"George Weller clearly deserves a prison sentence," said Johnson in a sternly worded statement that capped a trial followed nationwide. "The devastation that he has caused, and the indifference that he has displayed, supports no other conclusion."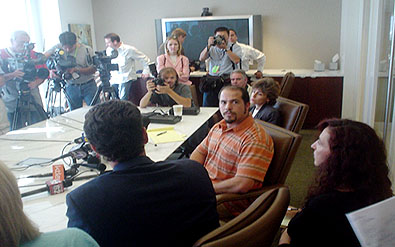 Anthony Portillo was one of the victims who attended a press conference after the verdict. (Photo by Olin Ericksen)
A month shy of his 90th birthday -- and confined to his bed on the day of his sentencing -- Weller would surely be facing what is tantamount to a death sentence if he were imprisoned, Johnson said.
Parole is the best way to ensure the defendant can financially support surviving victims and families of the dead, the judge said without elaborating.
"The fact that he deserves prison, doesn't mean he should get it," said Johnson. "Doing so wouldn't do anybody any good."
Johnson referred to Weller's apparent lack of remorse, calling the defendant "bull-headed" and "stubborn" for refusing to accept responsibility for driving his 1992 Buick LaSabre through a crowded outdoor market on July 16, 2003, keeping his foot on the accelerator for nearly 20 seconds. (see story)
"Mr. Weller chose to defend the charges vigorously, even to the point of harassing jurors after the trial ended," he said. "Aside from a couple of hours, Mr. Weller didn't listen to the victims at all.
"He has never once expressed in court any remorse for his actions," Johnson said. "I will simply never understand Mr. Weller's' indifference to the victims in this case, and I will never understand his stubborn and bull-headed refusal to accept responsibility… and help put this matter to rest for everyone involved, including himself."
A block and 21 stories up from the street where Weller allegedly mistook the gas pedal for the brake, family members of victims and victims themselves gathered at a local law firm representing them in a civil suit against the 89-year-old driver.
Facing a phalanx of news cameras in the conference room of Green, Broillet and Wheeler, LLP, they expressed their feelings about the verdict.
"It doesn't change anything," said a sullen Lilly Hoffman clad in black, whose father was killed and mother seriously injured in the crash. "It won't bring my father back and it won't make my mother the same."
Weller "received justice, but (the criminal trial) was a waste of time," she said. "It was obvious that he was grossly negligent, and he was wrong."
Crash victim Anthony Portillo said the sentence also did little to relieve his mental anguish and physical impairment.
Once an aspiring competitive marathon runner, Portillo said his knee was seriously injured when Weller's car hit him on that summer day more than three years ago.
"I was standing at the market getting ready to purchase fruit… when, out of the corner of my eye, I saw Russell Weller's' car come heading straight toward me," Portillo said. "The last I remember I was trying to jump out of the way."
After briefly losing consciousness, Portillo said he awoke to a horrific scene.
"I landed in the middle of the street unable to get up at that point, and of course there was a lot of chaos and havoc and some very injured people right next to me," he said.
"I'll never forget about that day and how the market turned into complete chaos in a few seconds," Portillo said. "That day will never escape me."
While Portillo lamented that he can run no more than five-miles after undergoing reconstructive surgery, others lost far more.
As Weller allegedly fled after side-swiping a parked car, he left behind ten dead, including an infant, a married couple, a three-year-old girl, an elderly man and a transient.
While some lost their lives, others lost their livelihood and continue to struggle financially with mounting hospital bills, the victims and their families said.
Despite Weller's lack of remorse, neither Portillo nor Hoffman said a harsher penalty was warranted, nor would it do anyone any good, a theme echoed by victims awaiting the civil portion of the case.
"I just want some closure," Portillo said.
Wire reports contributed to this story