By Olin Ericksen
Staff Writer
November 10 – As he has for a year now, Alabama awoke last Saturday hung over and ambled in the morning sunlight to City Hall, where he knew he could count on a free meal passed out on the front lawn.
But when he got there, he found the sweeping greens deserted.
"Someone told me the meals were no longer at the courthouse and to go down the street," said the elderly man, his red eyes peering into the day from under a battered baseball cap. "So here I am."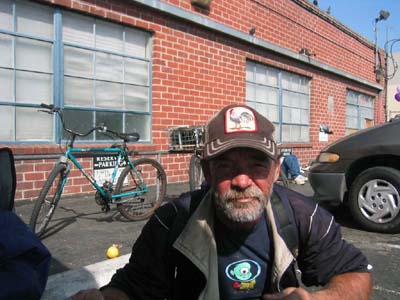 Alabama was among the nearly 150 homeless who showed up for a free meal at OPCC last weekend. (Photos by Olin Ericksen)
Like Alabama, nearly 150 homeless drove battered live-in vehicles, pushed cramped shopping carts, rode weighed-down bikes or simply hauled everything they had on the their back down to the OPCC Center, 612 Colorado, to quell the pangs of hunger last weekend – a dramatic shift for people who live by routine.
Trading space and light for tables and promises of better service connections, the building is now ground zero for two of the largest feeding programs – Helping Other People Eat and Hand-to-Hand – which last Saturday moved indoors for the first time after nearly 15 years of handing out meals outdoors.
The move also brings the City and feeding groups together for the first time to break bread after years of litigious relations.
"We've been looking for a way for years to work together with the City and by them identifying this facility, it has really made that possible," said Cliff Marcussen, a soft-spoken bear of a man and a board member of Hand-to-Hand.
Now, after nearly six months of negotiations with Santa Monica City Manager Lamont Ewell and former County Supervisor Ed Edelmen, its "homeless czar," Marcussen and a battery of volunteers from Agape Church steered scores of hungry homeless through a secure back entrance on Seventh Street for the inaugural meal.
On the menu: a simple sack lunch, fruit, donuts, muffins, coffee and orange juice. Families, couples, men and women of different ages and races filed in a few at a time, while police stood on the street over.
A blue serene interior, carpeting, tables and a fresh coat of paint on the walls -- the result of thousands of dollars in City funded renovations -- greeted the "guests," a term used by the group. The City also handed out free pairs of socks and provided City workers.
And this is just a start, volunteers hope.
"We're interested in providing other services to the homeless guests beyond just the meal we provide," Marcussen said. "This is a way we can actually increase services."
Volunteers for Hand-to_Hand pose outside the OPCC center.
Expanding those services on site will be integral to bringing home people who have lived outside society sometimes for years, he and City officials said.
"To get people in the same place at one time is a great way to get accurate information and let people know what's available to them," said Stacey Rowe, a Human Services Administrator for the City who has worked tirelessly on homeless issues.
St. Josephs' Center and OPCC (formerly Ocean Park Community Center) and a case management team for the City will come to the free meal programs held Wednesday, Thursday and Saturday mornings, Rowe said.
"They're not going to be here at the same time, (but) whenever we have a meal, we'll try to make sure that we have at least one or two of them here," she said.
It is all part of a larger strategy to use the free meal program as a way to better connect to the city's most downtrodden residents in the future, Rowe said.
However on this Saturday, all the players were busy keeping the first food line moving along, to good results.
All but one man parked their belongings in a back room staffed by workers and headed to one of two main rooms for the meal. And one woman was even referred to an emergency bed for the weekend at OPCC.
City officials said they will likely help her find permanent housing under a local , federally funded program to get those who have lived on the streets the longest – "the chronically homeless" – into apartments and support programs. (see story)
Despite the success of the program on its first day, kinks still need to be worked out, volunteers said.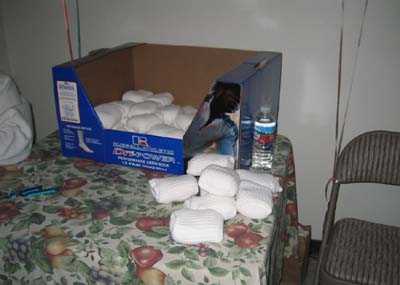 The City handed out free socks last Saturday.
Many people ate quickly without talking much and filed back out into the midday sun, an indication they may feel uncomfortable in their new surroundings.
"Some of them have been out so long it is just unnatural for them to come inside," said volunteer James Reynolds, "They're used to being out in the elements. Indoors is not their element anymore."
The red-haired boyish-looking Reynolds should know. He too is a "guest," and formerly homeless. And now he is struggling to keep a foothold and a home.
"Originally they helped me out and recently I got fired from a job and so I find myself in that situation once again for the next couple of weeks," he said.
Reynolds said he would be taking full advantage of services while he searches for a new job, probably as a delivery driver.
"There's a lot of people out there that need a base of operations where they can go get cleaned up, shaved up, go look for an interview," said Reyonlds, his hair still wet from a shower that morning.
Still, obstacles may lie ahead.
"We can somewhat control what happens within the boundaries here, but once they leave you can really no more control them as we can control you once you leave this room," Reynolds said.
The OPCC center.

Bounded on all sides by restaurants, businesses and soon-to-be finished luxury apartment buildings, the OPCC facility and its program is being closely watched. On the first day, many of the chronically homeless seemed to have stayed away.

"The real people haven't came over there yet," said Stacey, who with Karen Reid lives out of beat up Ford Bronco for nearly four years now. "In other words, the hard-core people."

"I think its going to take some time to get it organized," he said. "This is like a crash course."

Reid, homeless after medical bills piled up several years ago, back when she "had a nice life," agreed with her partner.

"My only concern is that with homeless people being cooped up places can lead to things," she said. "I like it outdoors, when you're around homeless people. To me, the people who are drinking or doing drugs make it hard on people like us, people who don't do that."

Despite the change, Reynolds, Reid and Stacy, along with the volunteers who showed up to provide security, clean-up, support and outreach, all agreed the program kicked off to a good start.

"So far everything seems to be working out really well," Reynolds said. "Indoors is good. It avoids the rain. It's more uniform and not as chaotic."

Reid too appreciated the help and said you can count on seeing her and her partner back

"They're waiting on a bunch of drunks, and we don't need to get treated that well, but it was awfully nice of them to do that," she said, bashfully stroking her hair as she spoke.

"We deserve it, I guess -- we are human beings."