Recycling Strategies
By Phil Wayne
Staff Writer
For those interested in getting as much cash as possible for their recycling efforts, a few tips can be helpful:
See the "Helpful Hints to Ensure Proper Payment of CRV" in the DOC's Consumer Recycling Refund Value Fact Sheet
The Department of Conservation's Bottles and Cans website offers a host of useful information, including a Consumer Recycling Calculator, which gives a rough idea of the per pound value of your ontainers.

In general, consumers are better off recycling by count if the CRV containers are smaller and/or lighter, which means more containers per pound. However, if they are larger and heavier (i.e., fewer per pound), recycling by weight will generally earn a larger refund.

(Photos by Phil Wayne)
Be informed! Check the refund rates for each type of CRV material. By law, they must be clearly posted at all certified recycling centers.
Separate containers by size and material. Also, separate glass by color. Residents can save time at home by saving them in designated bins or bags to begin with: four-cent containers (under 24 fluid ounces) in one group and eight-cent containers (24 ounces and over) in another.
If for any reason you cannot witness the counting process at your local recycling center, count your containers before going. This will give the exact CRV value.
Even if the attendant doesn't offer the choice, request a "by-count" redemption if that is to your benefit.
If you have hundreds of containers and your recycling center won't count more than the required 50, go to a center with a "reverse vending machine" (RVM). This will require considerably more time, as each container must be inserted individually into the bottle-eating contraption. However each container earns its proper CRV. Locations can be found by calling 877.REPLANET (877.737.5263) or clicking on www.replanetusa.com. Sites with the words "rePlanet" next to them have RVM's, according to the company.
If time is more important than dollar amount, recycle by weight.
Lines for scales move faster than those for reverse vending machines, and the process of weighing goes quickly. According to Allan Co., "Saturdays and Mondays are our busiest days. The middle of the week is normally our slowest time," when lines may be shortest.
Remove contamination from your load, as this may decrease its value.
Ask to see the latest seal of approval from the Weights and Measures Bureau for the scale on which your recyclables are being weighed.
Drink Belgian beer! 100 empty Westmalle beer bottles (11.2 oz.) will garner only $4 by count but, due to their considerable heft, will return about $5.75 by weight, using the State per-pound rate for CRV glass.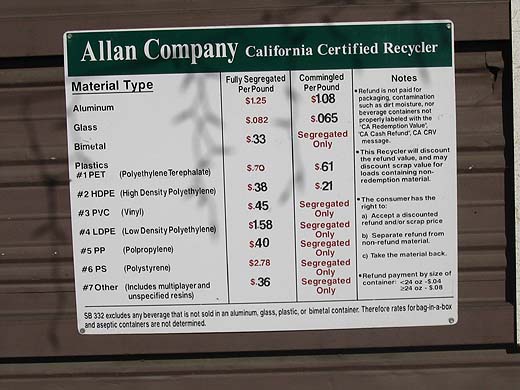 Posted State rates
ADDRESSES, PHONE NUMBERS AND WEB LINKS
OTHER HELPFUL WEB LINKS (Note: Some documents are in .pdf format and require Adobe Reader for viewing, available free at Adobe Acrobat Reader)