City Parties Down at New Library
By Ann K. Williams
Staff Writer
January 9 -- If Saturday morning's opening celebration was any indication, the new Main Library is well on its way to becoming the gathering place that City leaders have long envisioned.
Hundreds of Santa Monicans turned out to join a who's who of City officials, past and present, a small army of reporters and at least one Hollywood celebrity at the new facility at 6th Street and Santa Monica Boulevard.
Photos by Ann K. Williams
Planning for an expanded library began in 1988. Now, 18 years and $57.7 million later, the new 104,000 square foot structure is touted as a model of sustainable engineering and a centerpiece for community engagement.
"It's been a long time coming," Mayor Bob Holbrook told the crowd. "After eighteen years on this, everybody's been involved."
After the ceremonial ribbon cutting, Council member Richard Bloom called it "part of a renaissance in Santa Monica," and predicted it will be "the focal point in the community for many, many years."
Past and present leaders (left to right): Assistant City Manager Gordon Anderson, former Council member Bob Gabriel, former City Manager Susan McCarthy, former Mayor Michael Feinstein, College Board President Nancy Greenstein, Council member Pam O'Connor, Former Mayor Paul Rosenstein, Council members Richard Bloom, Mayor Bob Holbrook (at podium), Council members Kevin McKeown and Ken Genser, School Board member Julia Brownley, former Mayor Judy Abdo and City ManagerLamont Ewel
The library will be "more than just a repository for books," Edward Edwards, chair of the Library Board, told the crowd. It offers rooms and open spaces "where people can meet and work and talk quietly," he said.
In the new Martin Luther King, Jr. Auditorium, actress and children's book author Jamie Lee Curtis enchanted dozens of children and their parents who crowded around her as she read "Today I Feel Silly" and "It's Hard to be Five" and mugged for the cameras that followed her everywhere.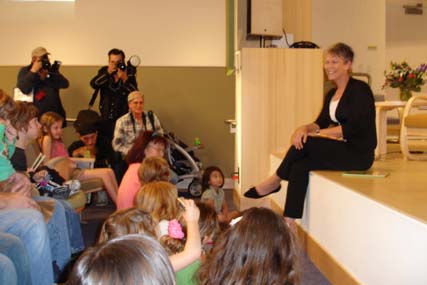 Jamie Lee Curtis holds audience enthralled.
"I am thrilled to be the inaugural author speaking in this room," Curtis told her audience in an uncharacteristically serious moment. "It is an honor that I will remember for the rest of my life."
Some 400 attended the opening ceremonies at 10 a.m., and the party continued to grow throughout the morning.
By noon, City Librarian Greg Mullen wore a dazed, happy smile as an elderly couple pushing matching lime green walkers shuffled past him to join a crowd he guesstimated at more than a thousand.
"This is what it's all about," Mullen said.
Inside, more than thirty people stood in line to check out books while others made their way toward the reading room looking up, admiring the light streaming in through a two-story wall of windows.
Dozens wandered into the courtyard to enjoy coffee and snacks, balancing cardboard cups and chip trays as they looked for places to sit down.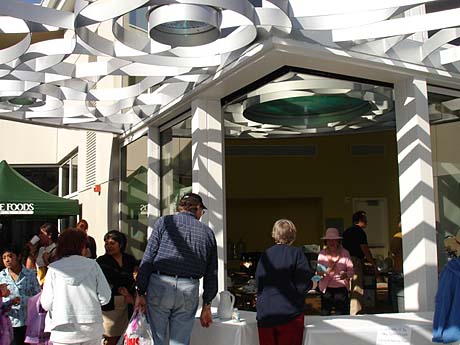 Under the Undersea Canopy in the garden courtyard.
At least one young mother was trying to keep her determined four-year-old daughter from wading into the marshlike garden pool after a gaggle of orange rubber duckies placed there for the festive occasion.
Earlier outside the library, retired City Manager Susan McCarthy and retired City Librarian Wini Allard were typically modest, but not entirely unsung, as Mayor Bob Holbrook and Mullen gave them credit for their vision and leadership that were at the heart of the 18-year project.
Susan McCarthy and Wini Allard were delighted by the turnout.
As McCarthy and Allard quietly stood at the edges of the crowd, they beamed at the realization of their dream.
"I'm so happy," Allard said. "I just took a walk through it. I remember planning all those details.
"I want a job here," she added with a sly smile.
Susan McCarthy gave credit to Dick Horst, who, with Sherrill Kushner, spearheaded the bonds passed in 1988 and 1998 that paid for the new library.
"It's just such a spectacular tangible benefit from the amazing time in the 90's when the economy was booming," she said.
McCarthy wasn't alone in lauding Horst and Kushner.
Mullen singled them out for praise, and City Council member Kevin McKeown called the new library "a gift to us all from the dozens of community activists who helped plan for lifelong learning (and) who helped pass the bond to build" it.
Starting Monday, McCarthy will begin her new job as library docent, Holbrook told the crowd.
She will be one of a host of volunteers and staff who will welcome the public in the coming months. For more information on special events and library features, see www.smpl.org