Preserving the Memory of the "Pearl of the Pacific"
By Ann K. Williams
Staff Writer
August 8 -- For more than thirty years, Louise Gabriel has been fascinated with the history and culture of Santa Monica, collecting memorabilia, photographs and stories and displaying them at her museum on Euclid Street.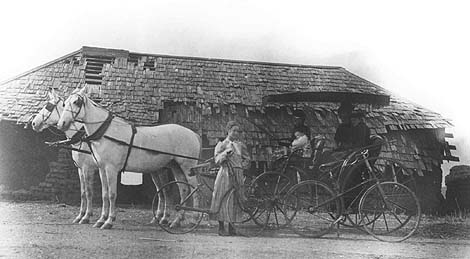 The Reyes Adobe. Santa Monica's first house, near Seventh Street and Adelaide Drive. (Courtesy of the Santa Monica Historical Society Museum, Jones Collection)
Now Gabriel -- president and one of the founders of the Santa Monica Historical Society -- has written Early Santa Monica, a volume of 200 vintage photos and facts illustrating life in the "Jewel of the Sunset Bay" from its founding to 1950.
Gabriel first became interested in local history when she served on the Historical Activities Committee of Santa Monica's Centennial Committee in 1975. A tireless community volunteer, Gabriel saw the need for a historical society and, with the help of civic leaders, spearheaded its creation.

"It was quite a struggle," Gabriel recollected. "Sometimes I worked twelve hours a day."
She had no salary and no staff. So Gabriel made do with donations -- from a rent-free space found by her husband, Bob Gabriel, to display cases donated by a jewelry store that went out of business.
A trolley stop in the early 1900's. (Courtesy of the Santa Monica Historical Society Museum, Outlook Collection)
People in town donated artifacts and folks who'd moved out of state sometimes sent her their treasures. A particularly exciting find was a large heavy package that came in the mail from Ohio.
It was covered with stamps, as though the sender had cleaned out her stamp drawer, Gabriel said. When she opened it, she found the guest book from the Santa Monica Hotel, the very first hotel in the city.
Now Gabriel and her staff are getting ready for next year's move into a "state-of-the-art" museum in the new main public library.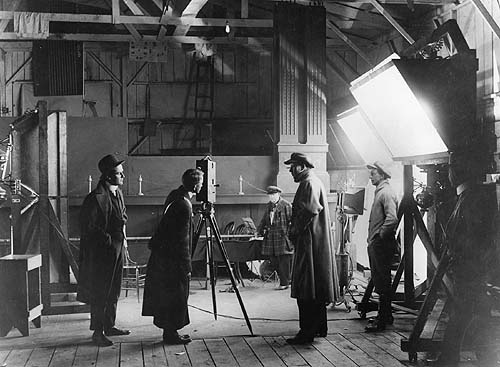 Kalem Film set at Colorado Boulevard and Fourth Street. Director Marshall Neilan at left, directing a "Ham and Bud" comedy. (Courtesy Mark Wanamaker/Bison Archives)
And she's working on a second volume of Santa Monica history, from 1950 to the present.
It's all an expression of her "love for Santa Monica," Gabriel said. "We have everything here you could ever want. I'm just doing my share in keeping it that way."
You can meet Louise Gabriel at a lecture and book signing this Sunday, August 20, from 2 to 4 p.m. at the Santa Monica Bay Woman's Club, 1210 Fourth Street, Santa Monica. Admission is free.
For a sneak preview, here are a few more of the photos from Early Santa Monica: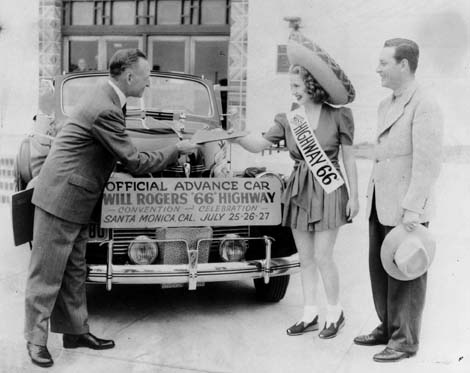 Mayor Samuel Crawford with Miss Highway 66 and an unidentified man. (Courtesy Ted Fach)
Dick Hyland, Norma Talmadge, Charles Chaplin and Bebe Daniels playing table tennis on the Gold Coast. (Courtesy Mark Wanamaker/Bison Archives)
Douglas World Cruiser taking off on a round-the-world flight from Clover Park. (Courtesy Santa Monica Historical Society Museum, Outlook Collection)