Thinking Green
By Gene Williams
Staff Writer
August 11 -- Whether it's keeping the Promenade clean, improving the lighting on 2nd and 4th Streets or replacing three of the Downtown's aging parking structures, Craig Perkins plays a key role in the present and future success of the Bayside District.

For the last 13 years, Perkins has headed the City's Environmental and Public Works Management Department, which has a yearly budget of $70 million and 365 employees devoted to maintaining and improving Santa Monica's infrastructure.

"We see ourselves as a service provider to the Bayside District," says Perkins. "So we really focus on trying to provide the best quality services at the best price, and I think we do that."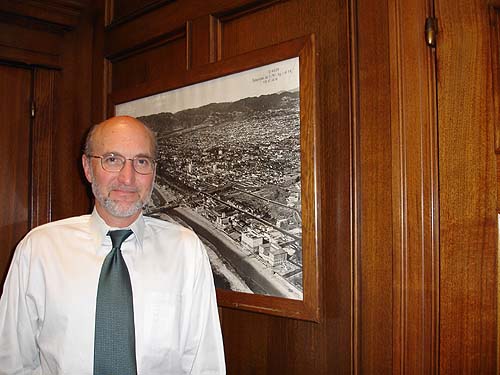 Craig Perkins (Photo by Gene Williams)


But it's not just about doing the best you can for the money, Perkins said. It's also a green thing.

This is Environmental and Public Works with a big "E." And so Perkins and his department keep looking for ways to help the environment while encouraging everyone else in the city to do the same.

Under Perkins' stewardship, Santa Monica was named one of the five most sustainable cities in the country, and could have ranked higher, he says, if it weren't for regional problems, such as air pollution and lack of public transit.

Some of the efforts Downtown are relatively simple fixes. The conventional light bulbs around the Promenade will soon be replaced with energy-and-maintenance-saving LED lights.

It's just a small step toward Perkins' ambitious vision of making Santa Monica energy efficient and self-sufficient.

"We believe that, cost effectively, the whole community could slice a third of their energy demand right off the top by just being more efficient," Perkins says. "That's the most sustainable thing to do."

Another third of the city's electricity needs could be met if residents, businesses and the City band together to install thousands of roof-top photovoltaic cells – "a fancy word for solar electric panels," Perkins says, adding that Downtown parking structures are choice locations for the technology.

The remaining third could be met by building clean generators locally "using off-the-shelf technology," he says.

"It's really a simple concept. You reduce waste, you look at the best clean-energy generation opportunity, which is photovoltaics, and you look at other clean energy technologies you can implement.

"You put those together, and Santa Monica, within its boundaries, on a yearly basis, could come pretty close to providing all its own electricity needs," Perkins says

The tough part is getting everyone to make the initial investment, he says. Photovoltaics aren't cheap. But with electricity rates set to go up 25 percent next year alone, Perkins says being green makes good money sense in the long run.

Concerned with aesthetics and the overall quality of life Downtown, Perkins has been spending a lot of time with Bayside officials to come up with ways to reduce the trash and clutter in the alleys on either side of Third Street.

"It's different from other alleys in the community," Perkins says of the alleys flanking the busy shopping strip. "It's really a main passageway to the Promenade."

A native of Wichita, Kansas, Perkins was raised in a small farming community near Fresno, California with "grapes and fruit trees mostly."

He attended UC Berkeley, then went on to UCLA graduate school, where he received a masters degree in political science focusing on Latin American studies.

"That's what originally brought me to Southern California back in the seventies," says Perkins. "I wasn't on the track to work for a local government."

But Perkins' future wife was working for the City of Beverly Hills, and he quickly became interested in municipal government, getting a second masters degree in the subject from Cal State Dominguez Hills.

Perkins sent a letter to numerous cities seeking an internship, and "Santa Monica was the only city that responded… and 23 years later, I'm still here."

A father of two, Perkins likes to golf and jog. He also likes to work around the house, doing at home what he does for the city, only on a much smaller scale.

"I spend a lot of time on home improvement," he said, pointing to a scab on his forehead to prove it.