Promoting a Greener Heart of the City
By Olin Ericksen and Gene Williams
Staff Writers
August 11 -- Downtown Santa Monica is coming up green, and the signs are everywhere.

You can find them in the branches of the Jacaranda trees, in the counter-top and flooring that will soon be laid in the new Big Blue Bus store on Broadway, and in the green bins tucked inside the parking structures behind the Third Street Promenade.
All across the Bayside District, businesses, residents and Downtown and City officials are doing their part to keep the heart of Santa Monica sustainable and energy efficient.
Cardboard, paper, plastic and glass are being recycled; low-energy bulbs are lighting up the trees; public streets and facilities are being cleaned without toxic or hazardous chemicals, and scrub water is being recovered before it has a chance to run off into the storm drains.
"Downtown Santa Monica is committed to sustainability and has implemented numerous measures to reach that goal," said Kathleen Rawson, executive director of the Bayside District Corporation, which runs the Promenade.
"There's still much to be done." Rawson said. "We're concentrating on recycling and conserving energy, two of our biggest priorities."
Urban Outfitters was one of the 50 Downtown businesses that shut down due to a power outage.
An underground explosion July 22 that blew the lids off of two access covers on Santa Monica Boulevard and sent flames leaping 15 feet into the air, dramatically brought home the need to conserve energy on the busy commercial strip.
Before a sweltering heat wave triggered the power surge that left some 50 businesses on and around the Promenade in the dark for several days, some energy-saving steps had already been initiated.
The incandescent bulbs strung on the Jacaranda trees will be replaced with LED lights that use between 80 and 90 percent less energy and are sturdier, so they don't end up in landfills every year when the trees are trimmed, Bayside officials said.
"The City pays less in power, and we pay less in maintenance," said Andrew Thomas, operations manager for the Bayside District.
On the private front, Southern California Edison launched a program in January to show Bayside business owners, especially those along the Promenade, how to conserve energy – and save big bucks in the process.
"Santa Monica is the only city targeted on the Westside because of the diversity of the businesses Downtown," said Mark Olson, a spokesman for Edison. "The program is personnel-intensive, so it was only done in select areas."
As part of the program promoted by the Chamber of Commerce, Edison conducted 100 free electricity audits of small businesses, identifying $103,805 worth of annual energy savings, or an average of $1,038 per customer, Olson said.
Among the energy saving tips are installing "smart thermostats" that can turn on and off based on the hours of business; changing lighting from incandescent to compact fluorescent bulbs that use 25 percent of the power and generate less heat, and replacing refrigerators that guzzle up energy in restaurants and convenience stores.
"The auditors prepare a report for each business and come up with a list of recommendations," Olson said.
WHEN IT COMES to recycling, the Bayside is also doing its part.
While Downtown businesses are faced with building and zoning code requirements that prohibit recycling at individual buildings, the City has established "bin rooms" in parking structures flanking the Promenade, where businesses can use the dumpsters and share recycling containers.
"If we can get those bins in a centralized location, out of the public space, then it's going to be a much better environment," said Craig Perkins, who heads the City's Environmental and Public Works Management Department.
Going the extra yard to recycle may not only help mother earth, it adds to a business' bottom line, said Wes Thompson, the City's solid waste manager in charge of recycling. "The more trash businesses have, the more it costs them in the long run," he said.
While the City's recycling program for Santa Monica businesses is robust, it must still compete with private haulers, so the City is giving incentives to win over new customers, Thompson said.
"We'll make something work for businesses that want to contract with us," said Thompson. "We're flexible, not rigid…. We'll give you the recycling containers… and help construct the right plan for you."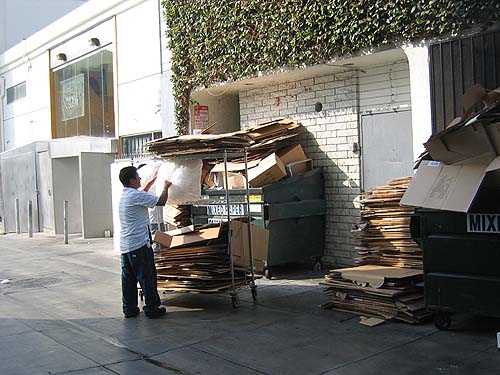 Recycling bins are helping to keep the Bayside greener.
In 2005, the City recycled 18,522 tons – four of these tons Downtown – and collected 68,150 tons of trash, Thompson said.
Those businesses that hire private haulers can also save by taking the time to throw plastic, glass, cardboard and paper in the community recycling containers in the "bin rooms," Thompson said. "It's really a win-win situation for everyone who does it," he said.
As part of a special program, restaurants that contract with the City for trash pick-up can also have their recyclables picked-up every day for free. In addition, a two-year-old pilot program recycles food waste that is turned into compost.
"We're trying to reduce the waste stream as much as possible for those participating merchants," Perkins said.
Another special program helps businesses that use keyboards instead of cutting boards by providing "e-waste" recycling. While no special pick-up exists for scrap computer parts, many businesses already take advantage of a special drop-off site at the City Yards, where more than ten tons of e-waste is collected every month, Thompson said.
Perkins and Rawson believe that a single operator should be responsible for hauling all the trash and recyclables Downtown, a move that would alleviate congestion in alleys overburdened by the constant coming and going of trucks.
"Whether that's the City or an independent contractor, it makes a lot of sense," Rawson said, noting that the issue is being looked at by the City Council.
CLEANING PUBLIC streets and facilities Downtown has also become an exercise in being green.
"We're constantly trying to find a better way to clean the pavement, clean the stairwells, and clean the restrooms," Perkins said. "And sometimes that involves changing the whole approach."
In a "lab" tucked away in a public parking structure on Fourth Street, Susan Trier, Promenade maintenance staff assistant , continually experiments with new combinations of nontoxic, biodegradable cleaning solutions that maximize cleaning power without increasing costs.
The department's use of such cleansers has been featured in several publications and on TV programs including the KTLA morning news.
But polishing Downtown's sustainable image is an ongoing task, and some of the most impressive efforts to go green are still around the corner.
A half block from the Promenade on Broadway, Big Blue Bus officials are preparing to turn an old storefront into a showcase for sustainability, said Dan Dawson, customer relations manager for the City's public transit system.
The Blue Bus' new transit store and customer service center, set to open in November, will feature floors made from recycled tires and counter tops fashioned from recycled soda pop caps, Dawson said.
The walls will be made of pressed straw and a curved ceiling will illuminate the shop with natural light during the day, Dawson said. Even the products sold will "relate to the environment," including bookmarks that sprout herbs when they're planted.
"We have made a very conscious decision to make it the most green store you can find in Santa Monica," Dawson said.
City officials hope to further the greening trend. More than 80 businesses have graduated from Sustainable Works, a joint program launched in 2001 by the City and Santa Monica College to show businesses how to be more sustainable.
Graduating businesses can point to cost savings of as much as $2,000 a year by installing energy efficient light bulbs or even tens of thousands of dollars by adding no-flush urinals in the restrooms, said Susy Holyhead, who heads the program.
"Some of the changes we suggest businesses make may be a bit more expensive up front, but the long-term cost savings can be incredible," she said. "It will save the environment and on businesses' bottom line."