SMRR Picks Slates for College, School Boards
By Ann K. Williams
Staff Writer
August 7 -- Alliances were the order of the day at Sunday's Santa Monicans for Renters' Rights (SMRR) convention, when potential candidates and their supporters came together to boost each others' political fortunes.
When the votes were counted, incumbents Oscar de la Torre and Emily Bloomfield and challengers Kelly McMahon Pye and Barry Snell won the coveted SMRR endorsement for four open seats on the School Board.
School Board hopefuls Oscar de la Torre, Emily Bloomfield, Barry Snell and Kelly McMahon Pye. (Photos by Ann K. Williams)
In the race for four opens seats on the College Board, the powerful tenants right's group gave the nod to incumbent Nancy Greenstein and three challengers -- Andrew Walzer, David Finkel and Louise Jaffe.
Nowhere was the behind the scenes maneuvering more apparent than in the jockeying among College Board of Trustees hopefuls, traditionally not a hotly contested race.
A slate backed by faculty interests convinced Pico Neighborhood representatives led by Oscar de la Torre and SMRR-backed City Council members to support them in their bid for the progressive organization's support.
"I hope for a new start for the city and the college and I think that we're on the right foot," said incumbent Council member Kevin McKeown, speaking in support of Walzer.
Walzer, a former Santa Monica College teacher, joined retired Superior Court judge and former City Council member David Finkel, lifelong learning advocate and co-founder of the Community for Excellent Public Schools (CEPS) Louise Jaffe and incumbent Nancy Greenstein.
Left off the ticket was Tom Donner, the college's chief business officer for 30 years and its interim president before he retired last month.
Greenstein and Finkel have been long-time active members of SMRR, and Finkel was Chair of the Santa Monica Rent Control Board.
The four winners had formed an alliance backed by college faculty, who are holding out for a 2 percent pay increase in contract negotiations that have gone on for two years.
College Faculty Senate President Richard Tahvildaran-Jesswein – a relative newcomer to SMRR -- was a visible and energetic presence at the convention, gathering ballots and speaking out on behalf of the slate.
"There are only four progressives on your ballot," Tahvildaran-Jesswein said, adding that Walzer was "one of them."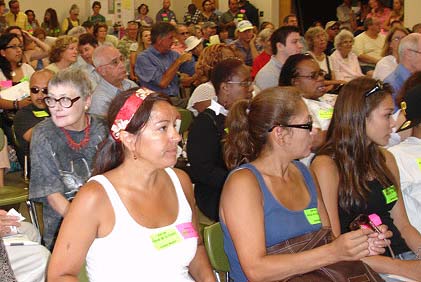 SMRR members take in speeches.
During the voting, Donner said he'd offer experience and balance to the board, and that a faculty majority might not be good for the governing body, but the faculty-backed slate won handily.
Of 147 ballots cast, Greenstein got 125 votes, Finkle 119, Jaffe 116 and Walzer 92 votes. Donner received 27 votes, well short of the number needed for an endorsement.
Greenstein is the only incumbent vying to regain her seat. College Board President Carole Curry is retiring after 27 years on the board. Board members Herbert Roney and Dorothy Ehrhart-Morrison, are leaving the board after serving 12 years.
Five potential candidates vied for four endorsements for the School Board. Though the two incumbents, de la Torre and Bloomfield, won their endorsements with votes to spare, the biggest vote-getters were newcomers Pye and Snell.
A former sales executive for the now-defunct Santa Monica Outlook newspaper, Pye has made a name for herself as an outspoken champion for the rights of low-income students, as she's worked her way up the PTA and Site Governance ladders in the school district.
Snell is also known as a high-profile volunteer who's worked to bring minority parents, especially African-American fathers, into the loop at Santa Monica High School and the middle schools that feed it.
Pye got 127 SMRR votes and Snell got 126, more than Bloomfield's 124 votes and de la Torres' s 107.
Sidonie Cheryl Smith failed to win an endorsement despite the backing of de la Torre, coming in with only 63 votes. Like the others, she emphasized equity and closing the achievement gap as her goals.
School Board President Julia Brownley is leaving the board to run for the State Assembly with SMRR's blessing Sunday, while School Board member Shane McLoud has not pulled papers.
All three Rent Control Board hopefuls at the convention won endorsements. Incumbent Jennifer Kennedy and challengers Zelia Mollica and Marilyn Korade Wilson took turns standing in support of each other, and will be backed by SMRR in November.
The potential candidates must file petitions signed by 100 registered voters to qualify for the November 7 ballot.