McKeown, Davis, O'Connor Win SMRR Nod for Council
By Olin Ericksen
Staff Writer
August 7 -- Despite continued infighting, members of Santa Monicans for Renters' Rights (SMRR) unified Sunday to back three potential candidates for each open City Council seat in an election that could make or break SMRR's control over City Hall.
In front of some 200 core SMRR members, incumbents Kevin McKeown, Pam O'Connor and education activist Gleam Davis -- in her first City Council bid -- embraced for photos in Olympic High Schools' packed auditorium after winning the vote.
Each surpassed the 55 percent threshold necessary to gain the backing of the grassroots group -- which guarantees a cadre of get-out-the-vote volunteers and tens of thousands in campaign cash -- both of which will likely be needed to overcome the deep-pocketed challenge from hotel owners, developers and the business community in months ahead.
Council member Richard Bloom and School Board member Nancy Greenstein share thoughts during voting. (Photos by Ann K. Williams)
"All three candidates have been endorsed and this is our slate for City Council," said SMRR co-founder and former Santa Monica mayor, Denny Zane, to applause from the crowd.
Before the cheers and posed pictures, though, the two council incumbents continued a silent feud played out in visual symbols sent out during the afternoon.
Neither shared the stage as they addressed SMRR members before the vote, a sign of the ongoing deep-seeded personal rivalry between McKeown, whose 154 votes placed him first, and O'Connor, who finished third with 109 votes. (see story)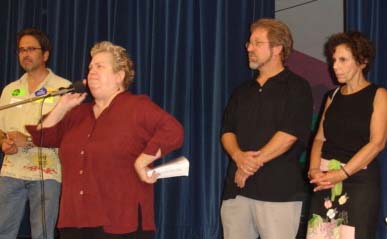 O'Connor addresses SMRR members flanked by fellow council member Richard Bloom, education activist Ralph Mechur and College Board incumbent Nancy Greenstein.
Davis -- the only other council hopeful seeking the tenant group's endorsement -- finished second with 139 votes.
One week before the convention, McKeown took the unusual step of endorsing Davis and not O'Connor. After Sunday's vote, he reiterated his support for the education activist, who is a leader of the Community for Excellent Public Schools (CEPS). (see story)
"The will of this convention is what I stand for…and I offer extra strong support for (Davis) in her run for City Council," said McKeown, noting that each candidate will campaign separately and SMRR will direct its own campaign on the slate's behalf.
Incumbent SMRR council members were also drawn into the controversy.
Two-term Council-member Richard Bloom stood behind O'Connor as she spoke and urged members to vote for all three candidates. Council member Ken Genser, who was first elected in 1988, endorsed only McKeown and Davis from the hospital, where he is recuperating from a fractured leg.
When O'Connor was asked why she thought neither incumbent shared the stage before the vote, the three-term city council member pointed to a by-law allowing only five people to share the stage.
"He just happened to not be one of my five," she said.
School Board President Julia Brownley, who won the SMRR endoresement for State Assembley, poses with the group's council slate -- Pam, O'Connor, Kevin McKeown and Gleam Davis.
Acknowledging some of the pre-convention campaigning by McKeown – which many SMRR insiders said was aimed at possibly knocking O'Connor from the SMRR ticket, and ultimately, public office – O'Connor said simply that this is politics.
"I can't remember a single SMRR convention where a candidate received 100 percent of the vote," she said. "It's a competition… kind of like the rest of the world."
Davis -- who captured her first SMRR endorsement for City Council with 139 votes -- distanced herself from the internal politicking by endorsing both McKeown and O'Connor at the convention. She enjoyed a broad base of support going into Sunday, including an early endorsement from CEPS. (see story)
"I've had a broad spectrum of people support me luckily," said a beaming Davis. "I guess my involvement in numerous mediations – as I work as an attorney – has put me in a special place to benefit disagreeing groups."
Davis, as well as O'Connor and McKeown, said they now are looking forward to a hard-fought campaign ahead. The SMRR slate will likely face a stiff challenge from four-term incumbent Mayor Bob Holbrook, who could field his own slate, and Planning Commissioner Terry O'Day, who plans to run as an independent.
"We don't know who to expect for the third candidate, but we know we'll have our hands full with Holbrook and O'Day," Davis said.
SMRR slate from left: Jennifer Kennedy, Oscar de la Torre, Julia Brownley, Pam O'Connor, Kevin McKeown, Gleam Davis, Kelly McMahon Pye, Zelia Mollica, Barry Snell, Nancy Greenstein, Louise Jaffe, Emily Bloomfield and Andrew Walzer.
Local political observers expect the two candidates will receive the backing of hotels, developers, the chamber of commerce and homeowners who have formed a loose coalition called Santa Monicans for Sensible Priorities (SMSP).
With the internal politics of the convention seemingly behind them, SMRR leaders said blunting an attack by SMSP against McKeown may be their top priority.
"Remember (SMSP) is already attacking Kevin and that needs to move us in special ways," Zane said, referring to three mailers aimed at McKeown's voting record. (see story)
Will the tensions between McKeown and O'Connor's supporters continue now that the convention is behind them, hurting both of the candidates? Can SMRR's grassroots political machine beat back their challengers' deeper pockets to maintain control of City Hall?
Those are some of the questions that will be answered when Santa Monica voters go to the polls November 7.