Record Crowd Gets Taste of Santa Monica
By Gene Williams
Staff Writer
September 19 -- Sunday's Taste of Santa Monica festival turned out to be the greatest success yet in the food fair's four year history, drawing a near sell-out crowd of more than 2,000 to the Santa Monica Pier to sample scrumptious victuals from forty local restaurants.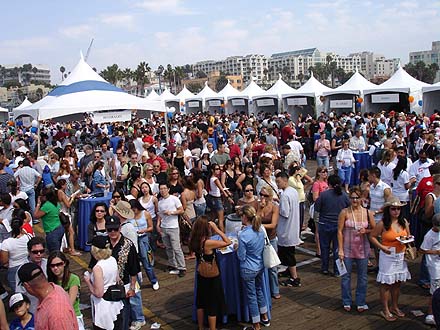 Photos by Gene Williams
With fare that ranged from Dyanmite Rock Shrimp to Tempura Strawberries to Green Tamales to Nutella Crepes, it was hard to tell which booth made the best impression.
But two dishes that scored big were the Citrus Marinated Ahi Tuna Tartar from 310 Bistro (3321 Pico Boulevard) and the Top Sirloin Steak Sandwiches from the Daily Grill (2501 Colorado Avenue Suite B190).
Of course, the Mussels and Clams in Aqua Pazza – a sauce made from tomato and limoncello – served by the staff of I Cugini (1501 Ocean Avenue) and the ever-popular Border Grill's (1445 4th Street) spicy Tortilla Soup were awfully good too.
Laura Dobbins of 310 Bistro shows off the restaurant's Ahi Tuna Tartar served on a bagel chip.
The fair also included two venues for those who wished to indulge in a liquid diet. For an extra 15 bucks on top of the $35 admission, dozens flocked to the Wine Garden -- a first at the fair -- where they sampled dozens of vinos from 15 different wineries and then stretched out on a carpet of artificial turf in one of the few shady spots around.
Beer and the hard stuff were available for four or five bucks a drink at a large bar near the center of the event where bartender Jason McVeary had his hands full keeping up with customers wanting Mojitos -- a concoction made of crushed mint, lime, sugar, rum and a splash of soda.
Bartender Jason McVeary
"The bar is slammin," McVeary said as he mixed another Mojito. "It's a great day."
The Victorian (2640 Main Street) provided an opportunity for those with a sweet tooth to tickle their fancy, serving a variety of sugary baked dishes made from ingredients such as raspberries, apples, pears, peanut butter and heath bars.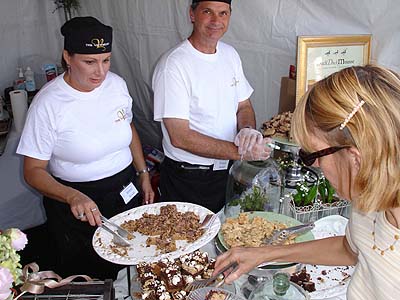 Aleta Slayton of the Victorian dishes up a dessert.
"People waited a while to get their desserts, but now they're really hitting," Aleta Slayton said as she dished up plates of the sweet gooey stuff.
The fairgoers -- who had come from all over Southern California -- gave the event a big thumbs up.
"The food is as nice as the weather," someone said in a comment typical of what was heard on the bright pleasant day.
But of course not everyone was as enthusiastic.
"I thought it was very flavorable, but there was too much pasta," said Lori Innes. "I would like to see more diversity in the food."
Innes had come with her business partner, Cara Brown; they own Gisell, a women's boutique on Montana Avenue at 13th Street. Brown has food allergies which severely limited her choices that day.
Cara Brown and Lori Innes
"I thought it was the most expensive corn tamale on the planet," said Brown, who is allergic to wheat. "It was the only thing I could eat because of my gluten intolerance."
There were several cooking demonstrations including one by French chef Christophe Bernard and his students at the Art Institute of California -- Los Angeles.
A native of the Lyon region with a perfectly thick accent, Bernard said he worked in the culinary arts for 26 years before becoming Academic Chair of the institute's program.
To help the students, the institute boasts an 18-member culinary staff with a combined 575 years of experience in the food field, Bernard said.
"It's all about passion and love of the food industry," he said. "Every day we are able to help someone achieve their dreams."
Christophe Bernard leads his students from the Art Institute in a cooking demonstration
Bernard said he is "building lifelong relationships with the students" and frequently gets calls for advice.
"I have people calling me from all over the world; from Germany, from France and Japan," he said. "They ask me, 'What should I do?' I ask them, 'What do you want to do?'"
Sunday's annual fair was hosted by the Santa Monica Chamber of Commerce and sponsored by Santa Monica Acura, The Art Institute of California -- Los Angeles, Young's Market, The Fairmont Miramar Hotel and others.
Chamber of Commerce President Kathy Dodson said it was "the best year ever."