Pico Congregation Offers More Than Prayer for Hurricane Victims
By Gene Williams
Staff Writer
September 13 -- Saturday's car wash at Mt. Hermon Baptist Church probably didn't raise as much money as other events staged over the weekend, but few in Santa Monica are feeling the hurricane's devastation more personally than this small African-American congregation.
Many members of church at 19th Street and Pico Boulevard have friends and family in the South who lost homes, jobs and loved ones to the disaster.
Mt Hermon Youth with Banner (Photos by Gene Williams)
Anita Davis-Williams said ten members of her family in Jefferson Parish "lost everything" and are now being sheltered in a hotel in Jackson, Mississippi. She hoped that the money being raised could help others like them.
"We're really just trying to make sure we can touch some lives," Davis-Williams said as a freshly washed car backed out of the church parking lot. "We may not be able to help all of them, but we can help somebody."
Car Wash
Others with loved ones in the affected region included nine-year-old Erica Taylor, who is a student at Will Rogers Elementary School. Taylor worried about her former teacher, Ms. Elston, who recently moved to Louisana to be with her aging family.
But perhaps Patricia Bell, the wife of Mt. Hermon's Pastor, has the most reason to feel anxious. Bell has family in New Orleans and one of her cousins is missing.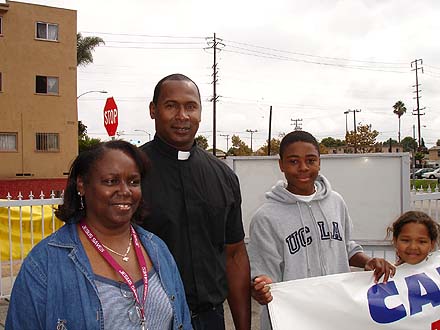 Patricia Bell and husband Pastor Edward W. Bell.
"When I talked to my family last night, they still haven't heard from him," Mrs. Bell said. Four other cousins and her 80-year-old aunt are now staying with family in Alexandria, Louisiana, she said.
Like Davis-Williams, Bell said her relatives "lost everything" to the hurricane, and so she and family members in Houston are sending clothes.
Pastor Edward W. Bell was worried that a lot of displaced people moving from the South will have a hard time adjusting to the higher costs of living in other parts of the United States.
"For a lot of them, $500 a month is a lot of rent, and in California if you can find a rent for $500 you're blessed," Bell explained.
Janell Mumphrey said the idea for the car wash grew out of her ten-year-old daughter's desire to do something to help.
Janell Mumphrey and daughter, Cheyenne
"She came to the pastor two weeks ago and asked if we could do a donation for the Hurricane Katrina victims," Mumphrey said.
.
"I just want to help the people," Mumphrey's daughter, Cheyenne, was quick to explain. "They have no food or money. I want to help them find their children."
About $30 dollars was collected at the kid's bible study that evening, Rev. Bell said.
Approving of the children's charitable impulse, Bell decided to "build on the momentum they had going" and helped the youngsters organize the car wash. The money will be turned over to a local relief agency, he said.
Using his contacts at Santa Monica College, Bell got some two dozen college students to help soap and hose down the cars.
Osamu Tormuro and friends from Alpha Gamma Sigma
"We just want to help," said Osamu Tormuro who came with his friends from Alpha Gamma Sigma – a student run service organization.
"We are from Japan and we have some hurricanes, so we know how the situation is very hard," he said.