Santa Monicans Step Up for Relief Effort
By Jorge Casuso and Gene Williams
Staff Writers
September 2 -- Santa Monicans have donated tens of thousands of dollars to help bolster relief efforts in hurricane ravaged New Orleans, and dozens more are volunteering to go and help the victims of one of the worst disasters in U.S. history.
From kids opening lemonade stands on street corners to a steady stream of donors flowing through the local Red Cross facility with checks, cash and credit cards in hand, Santa Monicans are stepping up in large numbers to help.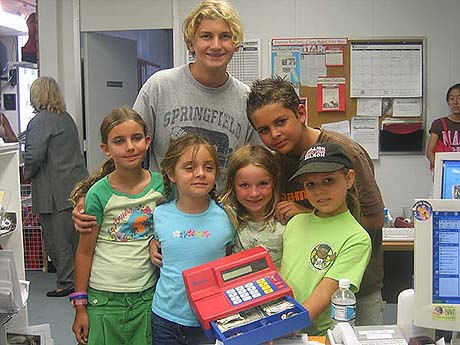 Children donate $150 rung up at lemonade stand. (Photos courtesy of the Red Cross)
"Every other child in Santa Monica has a lemonade stand or is canvassing the neighborhood," said Janice H. Rice, the local chapter's resource development director. "We've had offers of toys and clothes, but we're not in the position to accept that."
The local chapter of the Red Cross has already counted $25,000, exceeding the pace of donations made after last December's tsunami in Southeast Asia, Rice said.
"So much has not been counted," she added.
A donation taken at the final Twilight Dance Series concert on the pier Thursday night may have netted some $10,000, Red Cross officials said.
In coming weeks, refugees from the devastating flood could be flown across the country, and there is a possibility some may be relocated to Santa Monica, Rice said.
"Boy, oh, boy, are we going to have volunteer opportunities," Rice said. "It's going to be the responsibility of communities all over the country."
Some 80 volunteers took an orientation class Friday and will be screened before they are sent to the areas devastated by Katrina, which may have taken thousands of lives, Red Cross officials said. The volunteers will focus on providing disaster victims with shelter, food and clothing.
"Most of those volunteers want to go to New Orleans or participate in some fashion," said Robert Chatman, who heads disaster services for the local chapter of the Red Cross. "We have nurses and professional people who want to go out.
"This is going to go on and on," he said. "We're going to have this training for the next several months."
The orientation classes take from two to three hours, Chatman said, with additional training as time permits.
For more information, prospective volunteers in Santa Monica should call (310) 394-3773 or visit the Santa Monica offices of the Red Cross at 1450 11th Street.
Donors line front desk at local Red Cross.
Volunteers must be at least 18 years old, in good health and willing to live in primitive conditions, Chatman said. "We'll interview them, and, if they have the potential to go out for the minimum of nine days, we'll send them out as needed."
Karen Donoho -- a registered nurse volunteering with the Santa Monica chapter of the American Red Cross -- left for Miami on Monday and is now stationed in Montgomery Alabama.
Christy Courtemanche -- another local Red Cross volunteer, who has done relief work in Kosovo and Albania -- is working at a shelter in Houston, Texas, where victims are being bused in from New Orleans more than 300 miles away.
"Additional volunteers from the Santa Monica area will be headed to the disaster area in the days and weeks to come," Chatman said.
The Red Cross, said Rice, is "doing everything we can" to help the hundreds of thousands who have lost homes and loved ones in the disaster.
The local chapter will be open an extra hour – from 8:30 a.m. to 6 p.m. (instead of 5 p.m.) – weekday evenings for the next two weeks. The local Red Cross will take donations and volunteer sign-ups throughout the Labor Day weekend from 9 a.m. to 3 p.m.
Those who want to contribute money to the effort can use their credit card by going to www.redcross.org .
Or they can write a check to the American Red Cross designated for "Katrina" and mail it to the American Red Cross at 2025 E Street, N.W. Washington D.C. 20006. If a donor wants a donation to go to relief efforts in a particular state, they should indicate the state on the check.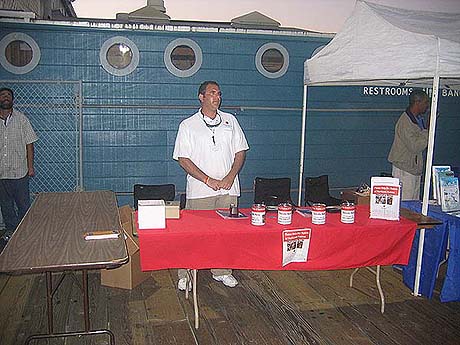 Red cross workers set up donation tables.
Donation locations will be set up at the Pico Farmers Market on Saturday and at the Main Street Farmers Market on Sunday.
On Saturday, September 10, the local chapter will hold a drive through at its facility on 11th Street.
Schools and businesses can collect cash donations and bring them to their local Red Cross chapter office.
In addition, people can give blood at the Santa Monica office on the 2nd and 4th Mondays of each month between 9:30 a.m. and 4 p.m; on the 3rd and 5th Mondays between 2 p.m. and 8 p.m., and on the 1st Wednesdays between 2 p.m. and 8 p.m.
Although donations of materials are not accepted from individuals, corporations that wish to donate quantities of needed items are encouraged to contact the Red Cross.