City Council Taps San Diego City Manager
By Gene Williams
Staff Writer
November 23 -- After a four-month search, Santa Monica has found its next city manager.
P. Lamont Ewell, 52, whose career began as an inner-city firefighter 30 years ago, is leaving his job as city manager of San Diego to take over the reigns as Santa Monica's top administrator early next year.
The announcement came 7:20 p.m., Tuesday, shortly after the City Council emerged from closed session to introduce Ewell to a crowd that had packed the chambers to weigh in on several issues on the agenda.
"His resume is impressive, as are his problem-solving and people skills," Mayor Pam O'Connor said.
"The confidence that the San Diego council has shown in him and the experience he has gained throughout his career gave us every confidence that he is the right person at this time for Santa Monica," O'Connor added.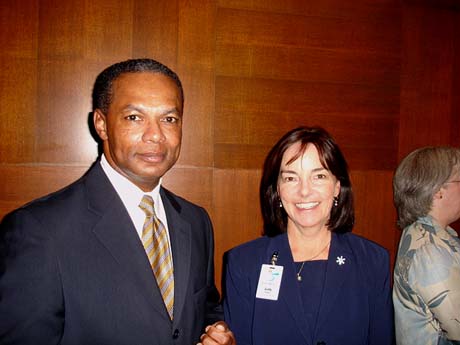 Incoming City Manager P. Lamont Ewell and Assistant to the City Manager Judy Franz (Photo by Gene Williams)
A veteran civil servant who's worked for five municipalities, Ewell has seen his fair share of challenges and controversies -- from the firestorm that ravaged the Oakland Hills shortly after he took over that city's fire department in 1991 to the ongoing fiscal scandal that brought the federal government down on San Diego.
Ewell told the council that he's looking forward to the challenges of running the day-to-day operations of a cutting-edge city.
"Santa Monica is highly regarded for being one of the most proactive cities in this nation," he said. "You're one of the few who address issues head on, when most communities throughout this nation are willing to turn their back on them."
Ewell then went on to list some of those issues: transportation modes, traffic, neighborhood protection, affordable housing and the homeless.
"And it's for that reason, the fact that you're willing to address these issues," he added, "that I'm elated at having the opportunity in helping you find solutions."
Tuesday's roll-call vote which unanimously approved the new City Manager was largely a formality.
After weeks of narrowing down a field of some 60 candidates, the council had made up its mind by Monday of the preceding week. But Ewell's name had been kept secret from the public until O'Connor's announcement.
Appearing reserved yet cordial, wearing a navy-blue suit and holding his hands clasped above his waist, Ewell was largely unnoticed in the council chambers as he awaited his introduction.
But as City employees, former mayors and City Hall regulars were seen walking over to shake hands with the quiet man standing in the corner, a rumor began to circulate among the rest in the room that, perhaps, this was the man of the hour.
Then the room hushed in suspense as the council members took to the dais. The silence was broken by applause at the first mention of the new city manager's name by O'Connor. And then it was time for Ewell to speak for himself.
"I do want to thank you, not just for the opportunity to become a member of this community, but perhaps more important, to have an opportunity to serve a community as great as this," Ewell said.
Almost in mid-sentence during his acceptance speech, Ewell gracefully segued to compliment the woman he will replace.
"I know it's going to be a very difficult task," he said. "Difficult because I follow perhaps one of the best city managers in this nation, Susan McCarthy."
The gesture brought applause from the audience and smiles from McCarthy who was surrounded by flowers on the dais.
McCarthy, who announced in August that she would retire to spend more time with her family, will step down December 8 after 24 years with the City, including six as city manager.
Assistant City Manager Gordon Anderson will take the helm until Ewell steps in January 16.
Beginning at the Compton Fire Department in1975, Ewell worked his way up through the ranks before landing leading roles, first at Prince George's County Fire Department, Maryland, and then in Oakland, California.
Thirteen days after coming to Oakland as Fire Chief in 1991, he was put to the test when a devastating blaze broke out in the Oakland Hills. Five years later he was named the city's assistant city manager.
In 1997, Ewell moved to Durham, North Carolina where he served as city manager until returning to California in 2001.
He then served three years as San Diego's assistant city manager before being elevated to the top post in April 2004 to help the city sort out a financial fiasco that had been building up for perhaps a decade or more.
Immediately, Ewell was set to work unsnarling San Diego's tangle of red ink and scandals -- including a-billion-dollar-plus shortfall in pension funds -- which have tied down the city's bond ratings and spurred a federal investigation.
Referring in his resume to the highly publicized crisis, Ewell states that his "efforts" have resulted in "steady progress."
But the problems prompted San Diegans to tinker with their form of city government.
After Ewell leaves, much of the city manager's authority will be stripped away and given to the mayor through a voter-approved measure that will take effect in San Diego next year.
Ewell announced his resignation as city manager a year ago, but agreed to stay on to help steer the city through the fiscal crisis.
According to a report in Wednesday's San Diego Union-Tribune, "Ewell's tenure has been overshadowed by the city's extensive financial problems" and "he has also been locked in an adversarial relationship with City Attorney Michael Aguirre, who contends Ewell was part of the city's problems."
As Santa Monica's city manager, Ewell will draw a salary of $245,000 to see to the day-to-day administration of City business.
The city manager implements council-driven policies and ordinances, oversees the 2,000 employees of the City's 14 departments, and develops the annual budget of some $383 million.
Ewell was joined Tuesday by his wife of 28 years, Mary, and their 27-year-old daughter, Jamila.
They also have a son, Justin, 24 who is currently stationed in the army at Fort Jackson, South Carolina.
Ann K Williams contributed to this report