Park It at the Market
By Gene Williams
Staff Writer
November 14 – After a temporary move to the airport two years ago, the Farmers Market returned to the Pico Neighborhood Saturday with a festive welcome home that saw larger than usual crowds jockeying for limited parking.
The fabric-covered construction fences that surrounded the soon-to-be-completed, improved and expanded Virginia Avenue Park had come down the afternoon before and, although the official opening won't be until next month, by Saturday morning, weekend recreation was in full swing.
There were young men playing soccer on the new grass, which, until recently, was an asphalt-and- concrete-covered lot where 20 years ago a supermarket stood. Kids were climbing and swinging on the new play equipment, and mothers pushed baby strollers.
Nearby, mariachis serenaded hundreds of market patrons who were making their rounds, stopping at the booths of their favorite vendors.
But in a day that otherwise got great reviews, parking, Santa Monica's perennial bugbear, was the number one bummer that threatened to spoil the party.
Ted Galvan -- who's been the City's coordinator of the Pico market since it opened in 1992 -- was glad to have the open-air food fair back where it started.
"I feel fantastic for the neighborhood," Galvan said. "It's what the neighborhood wanted for Virginia Park."
Ted Galvan (Photos by Gene Williams)
Galvan pointed out that the Farmers Market was rated the "number one" priority of residents when, several years ago, the City asked what they wanted in the new $13 million, nine-and-a-half acre project.
There were still a lot of "little details" to be worked out, admitted Galvan. He had his hands full all day answering questions, mostly concerning the snarled traffic in the new parking lot.
One couldn't walk ten feet without hearing complaints about the lack of parking which at times was described as "crazy," "inadequate," "idiotic" and "a mess."
"Our biggest concern is going to be parking," Galvan admitted. "But that is very common in this city."
In the narrow L-shaped lot on the corner of Cloverfield and Pico boulevards, cars were lined up, waiting for a space on the asphalt or reinforced grass or stuck at a dead end or trying to turn around through a series of three, four or five-point turns.
"The parking is very limited," said a City Traffic Services employee who was trying to direct the scene. It was only a little after 8 a.m. and the lot was "pretty much at capacity already," he said.
City officials acknowledged that there probably aren't enough spaces to accommodate everyone who comes to the Saturday market, but expressed confidence that the problem would get worked out over the next few weeks.
Also, parks officials stressed that there are plenty of spaces for folks who use the park for recreation on the other six days of the week. More parking spaces for cars, they said, would mean less grass and fewer recreational facilities.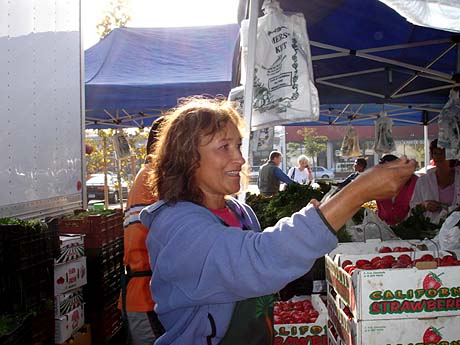 Gloria Tamai
Gloria Tamai, who has been bringing fruits and vegetables from the farm she runs with her husband in Oxnard to Los Angeles area farmers markets for the past 24 years, was doing a brisk business.
"Gloria has the best," one customer remarked as Tamai struggled to keep up with taking people's money and making change.
"All my customers love me. Everybody likes me here," said Tamai with a broad smile across a face that has seen plenty of sun.
Tamai has one of the larger and more successful booths, selling two to three thousand dollars of tomatoes, strawberries, peppers, zucchini and other vegetables in a day. Like the other vendors, four and a half percent of her gross goes to the City to manage the program.
Tamai and other farmers were happy with the new site, even though their spaces are smaller than they had at the airport, leaving less room to display produce.
"It's pretty, but the parking is a problem," said Tamai in a comment typical of what was heard from other vendors who worried that the parking hassle might discourage future business.
Some neighbors hoped the parking shortage would encourage others to bike, walk or take the bus in the future.
Pico neighborhood resident Maggie Ehrig was happy the market had returned to the Pico neighborhood and Sunset Park border.
"It's got a wonderful rural feel," Ehrig said of the new facility. "This is where our community meets, where we get together and talk to our neighbors."
Erhig, who designs, manufactures and sells children's clothes, had just met children's book illustrator Kathryn Hewitt and the two women were exchanging phone numbers.
Kathryn Hewitt
Hewitt was glad the market had found a "home base" that was "made for it."
"It's nice and has a lot of trees," Hewitt said. "It's a lot prettier than the airport."
Nearby, Pico neighborhood resident and artist Peter Tigler invited folks to participate in a paint-by-number project, a large portrait of a 90-something-year-old man.
City TV was interviewing people, soliciting memories of Virginia Park; or, if you preferred, you could have your picture taken and write them down.
Soon facilities including classrooms, a fitness gym and a teen center will open with programs such as video editing, dance, martial arts and a variety of crafts and recreational activities for people of all ages, parks officials said.
The City hopes residents will stop by for a tour of the new facilities between now and December 2.
Official opening day for Virginia Park is December 4.