Vidiots Turns 20
By Gene Williams
Staff Writer
November 10 -- Where do Santa Monica film buffs go to get those hard to find videos, oddities from the 1950s like Ed Wood's B transvestite exploitation flick "Glen or Glenda," skateboard movies by local z-boy Stacy Peralta or the out-of-print award-winning documentary "Marjo?"
That place, of course, is Vidiots, the funky multi-colored storefront on 3rd and Pico where celluloid junkies have been getting their fix for the past 20 years.
And as the business enters its third decade, Vidiots owners Cathy Tauber and Patty Polinger are celebrating with free events at the store throughout the month.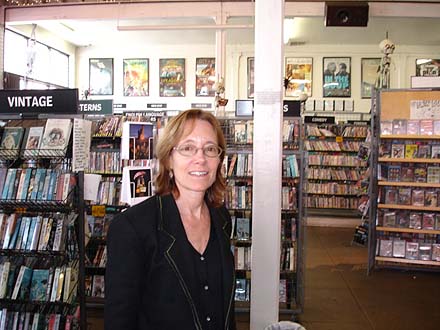 Cathy Tauber (Photo by Gene Williams)
Next Saturday, November 12, at 8 p.m., a panel of five KCRW music hosts will join film critic Tom Candejas for "That Song in the Background," an evening of film clips and discussion of how music has been used in movies of the past 20 years.
Everyone is invited to stick around afterward when KCRW disc jockey Eric J. Lawrence takes to the turntables for a post-presentation party that will continue into the night.
Then, on Saturday November 19, at 8 p.m., stand-up comics from LA's comedy clubs combine forces with Vidiots' talented staff to present humor, song, poetry and monologues – all inspired by the movies of course – in a night of living theater directed by Christine Schoenwald.
Earlier, on November 3, Los Angeles Times film critic Kenneth Turan kicked off the festivities, screening film clips and signing copies of his book "Never Coming to a Theatre Near You."
Tauber and Polinger started the business at 302 Pico Boulevard in November 1985, but their association goes back a lot farther than that.
"I've known Patty since I was three," Tauber said.
Video stores were "popping up pretty much everywhere" in the early 80s, before the big chains squeezed most of them out, Tauber said. Even so, she and her partner had trouble finding films they wanted to watch.
"Everything was something that I already saw or something that I hadn't seen because I didn't want to see it," Tauber explained. "So we were having, both of us I think, the same experience."
Then, they read an Entrepreneur Magazine article about an independent video store in New York.
"They were talking about foreign films and video art and independent film," she said remembering the article. "That was the first that we heard that, 'Boy! You can get these things.'"
Although neither of the women knew much about film, both had strong backgrounds in businesses tied to the arts. Tauber had worked for years managing an office for the late rock star Frank Zappa and Polinger worked for MGM in foreign distribution.
The two friends got a hold of some 800 VHS tapes and went into business.
"We opened with no operating capital," Tauber remembers. "There were some scary times."
But shortly after opening, an article appeared in the LA Weekly that helped get the word out about the hip new video store. Business momentum began to build, and soon Tauber and Polinger were expanding.
Twenty years later, Vidiots occupies 3,700 square feet of floor space with over 40,000 tapes and DVDs including hard-to-find foreign, documentary, animated, music, dance, vintage and silent films -- the kind of stuff "you're not going to find at Blockbuster or Hollywood Video," Tauber said.
That, and the store's knowledgeable staff -- many of whom have been with the business 10 years or more – have helped build a loyal clientele of hard-core film buffs and industry professionals who depend on Vidiots for research materials.
"I think we're lucky to have such great customers," Tauber said. "It's their support that has kept us around for all these years.
"I just hope they understand that we can't give them seven day rentals," she added with a laugh.
For more information go to www.vidiotsvideo.com