Spotty Oversight of Organic Foods May Prove Toxic
By Phil Wayne
Staff Writer
February 8 -- As Kian Schulman carefully selects from the colorful array of "pesticide free" vegetables lining the grower's stand on Arizona Avenue, she does so confident that, by avoiding the likes of Endosulfan and Metam 426, she is helping to ensure the health of her Malibu family.
Santa Monica's Famous Farmers Market (Photos by Phil Wayne)
Like many who frequent the Wednesday Santa Monica Farmers Market, Schulman, a registered nurse, presumes that the food represented as "organic" or "pesticide free" is, in fact, free of toxic chemicals or pesticides.
But how can she be sure? Is the product tested for residue once it leaves the farm? Almost never.
County agricultural officials "haven't come for years" to conduct random spot inspections, said Laura Avery, supervisor of the Certified Farmers' Market Program for the City of Santa Monica since 1982.
"In the old days… we had a few checks by 'Ag,' but none in years," Avery said, referring to initial inspections in the wake of Prop 86, which requires disclosure of any carcinogens.
Although the U.S. organic market is projected to reach a value of $30.7 billion by 2007, with an annual growth rate of 21.4 percent between 2002 and 2007, according to the Organic Trade Association, oversight remains limited.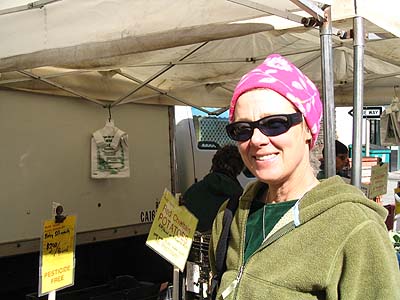 Kian Schulman, buys produce at the Wednesday Farmers Market.
Spot testing of the products for chemical residue after they leave the farm is almost non-existent and a list of offenders is hard, if not impossible, to get, leaving consumers with little assurance that the organic products they are buying have not been contaminated or mislabeled, according to an investigation by The Lookout.
While the 2003 California Organic Products Act (COPA) specifically states that "the director shall conduct a program of spot inspections…to verify continuing compliance," the chances that any given product has been locally tested for residue at the retail level is about as good as winning the lottery.
In Los Angeles County , which has a population of 10 million, the agency responsible for spot checking fruits and vegetables at farmers markets and grocery stores plans to conduct a total of 12 inspections during the 2004-05 fiscal year, according to agriculture officials.
Of the 12 spot inspections, "There will be one organic residue sample taken," said John Schrader, who is in charge of enforcing the organic program for the Pest Exclusion and Produce Quality Bureau, the county agency responsible for enforcing the state law as it applies to fruits and vegetables.
Julia of Fairview Gardens.org
"In addition, the Los Angeles County Agricultural Commissioner Office will also respond to all complaints involving the California Organic Food Act," Schrader said.
"I wish we could do more than we do," said Thomas A. Herrera, Inspector III with the county bureau.
In California, verification of compliance with organic food law is focused primarily at the farm level. Agencies accredited by the State visit farms, scrutinize their operations, and then -- if they pass muster -- certify them as "organic."
But at the consumer level -- that is, at farmers markets and retail tores that sell produce represented as "organic" -- oversight is spotty, limited more to scrutiny of required paperwork than of the product itself.
This leaves the consumer at greater possible risk from accidental or illegal activity that might occur between the farm and the market, such as contamination, co-mingling with non-organic produce or outright switching of product.
With spot testing of organic produce at the retail level rare, officials are often forced to rely on tips and complaints that accidental contamination or foul play has occurred along the way.
"We have found residues and have had successful action based on a tip-off from somebody or a complaint that's filed," said Ray Green, program supervisor for the California Department of Food and Agriculture (CDFA) organic program.
Asked if residue had ever been found during spot inspections, Green replied, "In just a random spot inspection program, I don't think we have come up with any prohibited substance."
Whether or not this is due to the rarity of testing for residue in spot inspections was not clear.
***
While incomplete oversight of California-grown organic produce may be a problem, it is by no means the only one cause for concern. Operations that classify themselves as "pesticide-free" or "all natural" – as opposed to "organic" – are subject to even less scrutiny.
And though foreign suppliers of organic food are supposed to follow the same strict rules that apply to organic farmers in the U.S., many growers and consumers doubt this is always the case.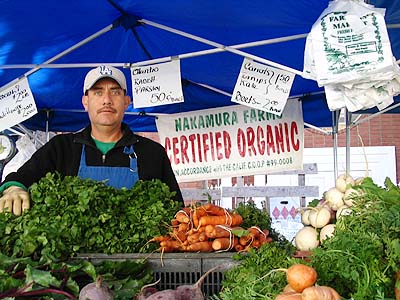 Antonio sells vegetables for Nakamura Farms.
People "should be scared to death about foreign" produce, said Truman Kennedy, who, with his wife Betty, runs an organic farm that has been a mainstay at the Wednesday farmers market for years.
Just back from a trip to Costa Rica, Kennedy claimed that DDT and Agent Orange (which are banned in the U.S.) are still made and used on some crops that are later shipped to the U.S., though he said he doesn't know if that ever applies to produce represented as organic.
Asked what oversight is provided to ensure that foreign product labeled as "organic" is free from non-compliant residue, Steve Lyle, Director of Public Affairs for CDFA replied that "this is the responsibility of the federal government," without specifying whether or not any testing takes place.
While focusing on the farms themselves is generally recognized as a critical and successful component of the oversight system, it may not be enough.
Reluctant to name names, some organic growers suggest that hanky panky can occur after the farms are certified "organic" or after clean product leaves the farm.

Others, such as Rodrigo de la Cruz, who runs California Organic Fruits, say they have heard of farmers who "call themselves 'organic' …but they don't have the certificate."
Pending legislation would require all certified organic growers to post their certificate at farmers markets. Since modern computers make asy work of forging a certificate, however, spot testing of product may still be the last line of defense against mistakes or fraud.
Asked if some farmers might occasionally skirt the rules, Kennedy responded, "I'm sure there's some abuse. That's human nature."
Still, many who frequent the farmers markets place their trust in the certified organic farmers themselves.
***
Farmers markets may be the most reliable source of organic produce, since customers are buying direct from certified organic growers, and there is less opportunity for accidental contamination or fraud along the way.
Truman Kennedy, owner of Kennedy Farms
"What you buy here is what I grow," said Kennedy, a relaxed, cheerful 62-year-old farmer with silver hair and moustache. "Our leaves have been tested, our soil has been tested, and our water has been tested."
If farmers market shoppers aren't sure a grower is really organic, Kennedy said, they should ask, "May I see your certification?" adding, "You should always go with your gut feeling."
Kennedy "would encourage" more retail spot testing and said he is considering having an independent company lab-test his fruit to prove its purity.
In addition to trusting the farmers, some organic shoppers place their faith in those who manage farmers markets. "I always check out the managers and see how their eyes are," said Schulman, who praised Avery for her running of the Santa Monica market.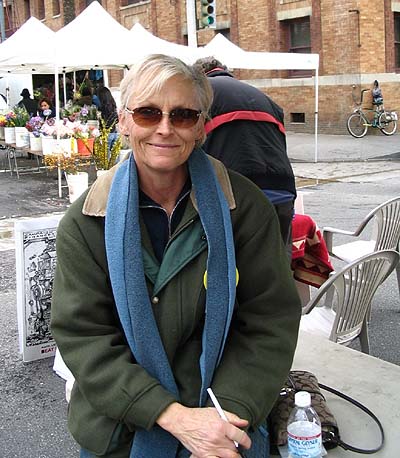 Laura Avery, Supervisor of the Santa Monica Certified Farmers Market Program.
But at retail markets, customers can't look into the eyes of the grower or get a gut feeling.
There, they are at the mercy of a system that relies more on paperwork and trust – trust that foreign growers do in fact consistently follow all U.S. organic rules; that all shippers, packers and inspectors are honest, and that no third-parties decided to cash in on the lucrative organic food market by slapping "USDA Organic" labels on tainted produce.
Yet at retail stores such as Whole Foods and Trader Joe's, enforcement is mostly limited to following the paper trail.
Since records are not readily available to the public and information provided by officials is sometimes inconsistent, it is difficult for consumers to know how well the California Organic Program is working.
While the 2003 Act mandates that a list of all offenders be maintained and made available to the public, government officials can't seem to agree if there is such a list and where it might be.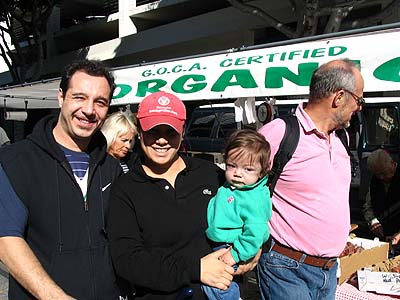 Alessandro and Kathylyn shop for organic food for their year-old son Gabriel.
"I do not have a current list per se," said Green, who heads the California Organic Program. "I suppose I could send a letter out to all commissioners that have administered civil penalties in the past five years and then compile such a list."
"Since the county has taken the action," he said, "the best place to request a copy of that action and all the related stuff would be from the county."
But, when asked if such a list is available, Schrader, who is in charge of county enforcement, replied, "The state does not compile a list of organic businesses that have been fined."
Meanwhile, Lyle, the public affairs director for the state agricultural department, said, "We keep county inspection data on file at CDFA headquarters," further muddying the waters.
Records of past lab residue tests performed by the County are not readily available either. "Test results for organic produce residue sampling are not specifically assembled and made available to the public," said Schrader.
In the midst of the regulatory fog, one fact does stand clear: a bumper crop of organic produce hits farmers markets and retail stores every week.
In 2003, over 1.7 million acres of farmland were devoted to organic product in California alone, according to CDFA statistics.
But how much profit from the sale of organic foods is harvested by honest farmers and how much may be reaped by dishonest opportunists remains uncertain.
Asked if an increase of spot inspections might be on the horizon, Green replied, "Not immediately."
---
USEFUL LINKS
The California Organic Products Act of 2003, in .doc format
The California Organic Products Act of 2003, in .pdf format
Div. 17, Chapter 10 of California Food and Agricultural Code,
Organic Foods
California Food and Agricultural Code, Complete
Inspection and Compliance Branch, California Organic Program,
Calif. Dept. of Food and Agriculture

California Department of Health Services
Los Angeles County Agricultural Commissioner/Weights and Measures
United States Department of Agriculture, National Organic Program
National Organic Program, Index