By Lookout Staff
September 17, 2019 -- On Friday, hundreds of kids from Police Activities League (CalPAL) chapters across Southern California were treated to a free fun-filled evening at Pacific Park.
It marked the the 15th annual PALpalooza back-to-school outing hosted by the two-acre amusement park on the Santa Monica Pier.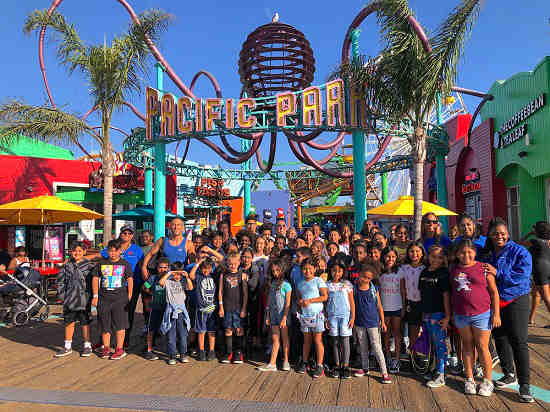 Kids at 15th Annual PALpalooza (Courtesy Pacific Park)
Since its inception, more than 5,000 kids have attended the annual event that offers free rides, midway games and meals from the oceanfront food court courtesy of the Park.
"The success of PALpalooza grew from a simple idea to host local PAL kids for a fun day at the Park to now include PALs from throughout California," said Nathan Smithson, the park's marketing and business development manager.
"While the kids have a great time, PALpalooza has a special meaning for Pacific Park's employees too," Smithson said. "They enjoy seeing the smiles and pleasure for so many kids."
Members of PAL chapters from Santa Barbara to Victorville attended Friday's event, Park officials said.
"PALpalooza provides the kids with a once-a-year opportunity to play the games, ride the attractions and enjoy delicious refreshments all compliments of Pacific Park," said Eula Fritz, director of PAL's Santa Monica chapter.
"Pacific Park has been a terrific partner for PAL since the inception of PALpalooza," Fritz said. "Not only do we work with the Park on this event but we enjoy their support for other activities and programs throughout the year."
Pacific Park features a dozen rides, including the Pacific Wheel, the world's first solar-powered Ferris wheel; the West Coaster, a steel roller coaster that races 55 feet above Santa Monica Bay, and Inkie's Air Lift Balloon Ride for younger kids and their families.
The Park also features 14 midway games and a variety of food selections from the Park's oceanfront food court including hot dogs, hamburgers, French fries and soft drinks and juice, as well as a variety of desserts including cotton candy, popcorn and ice cream, park officials said.
The Santa Monica PAL Youth Center is located at 1401 Olympic Boulevard, Santa Monica, CA 90404. For additional information, please call (310) 458-8988.
Pacific Park is LA's only admission free amusement park. For additional information and hours of operation, call 310-260-8744 or visit www.pacpark.com