By Jorge Casuso
March 7, 2019 -- After a struggle that began with a request a quarter century ago and gained momentum a dozen years later, Santa Monica residents will finally get a Civic Center sports field a quarter mile from the beach.
On Wednesday afternoon, the California Coastal Commission voted to approve the City's plan to replace a 3.8-acre portion of the Civic Center surface parking lot with an $8.6 million, 106,000-square-foot multipurpose sports field.
The unanimous decision caps a community fight to build the field that waxed and waned for years before finally winning a commitment from the City Council in June 2017 ("Santa Monica Civic Center Playing Field Wins City Council Approval," June 29, 2017).
Rendering of interior of proposed sports field (Courtesy City of Santa Monica)
"It was the field that would not die," said Recreation and Parks Commissioner Maryanne LaGuardia, who has pushed for the proposed project for 25 years. "It's the end of an uphill battle that should not have been an uphill battle.
"We'll finally have a large green space instead of some big ugly building or asphalt."

The project -- acroos 4th Street from the high school -- will remove 696 public parking spaces within the Civic Lot, while increasing the demand for parking, prompting the Commission to set a number of conditions.
They include that the City submit a "transportation and parking demand management and monitoring program" that will measure occupancy for five years after construction and monitor and restrict parking permits and passes for uses in the Civic Center.
The Commission also added a condition not mentioned in the staff report but suggested by Dr. Alison Rose Jefferson, a historian who specializes in African American history.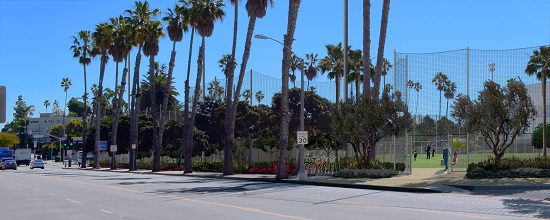 Rendering of proposed sports field entrance
The project will commemorate the Belmar Triangle neighborhood that was home to Santa Monica's black community before it was destroyed in the 1950s to build the Civic Auditorium ("Frank Gruber to Shine Light on Lost Belmar Triangle," September 29, 2011).
In her testimony before the Commission Wednesday, Ann Hoover, a co-chair of Santa Monica High School's Civic Center Task Force, stressed the importance of this history.
The Civic Center "did not spring out of nowhere in 1958," Hoover said. "Instead, beginning around 1900, it was a thriving African American neighborhood" that the City took by eminent domain.

"Learning that history, the taking of homes and businesses from a minority community, destroying a neighborhood entirely," Hoover said, "has always helped cement and fuel our commitment" that the site be used for public, not private, use.
"This area should always be as open to and as usable by everyone as possible," she said, "a true 'Civic Center.'"
Hoover noted that the sports field meets the Coastal Act's criteria in that it protects public rights; is a lower-cost public, visitor and recreational facility, and meets the recreational needs of new residents Downtown.
City officials said Wednesday that the project is "now designed, fully funded and set to break ground in August."

City Manager Rick Cole said Wednesday's vote was "the biggest hurdle for fast-tracking the sports field."

"Our City Council pushed to get this done, so City teams worked closely with community advocates to get us here, six months ahead of schedule," Cole said.

"This success demonstrates what's possible by working together. We're excited about inviting everyone to the groundbreaking this summer."