By Jorge Casuso
January 29, 2019 -- Writers, visual artists, choreographers and musicians will pair up at Camera Obscura this year to explore everything from power structures to seaside waste, City officials announced Tuesday.
The six local artists were chosen to take part in 14-week-long residency programs that offer "temporary studio space and (the) opportunity to share their work and process with the public," according to Santa Monica Cultural Affairs officials.
The first residency -- which takes place from January 9 to April 17 -- features the work of multidisciplinary artist Max King Cap and choreographer DaEun Jung.

During his residency, Cap will create "politically radical text statements" and paintings for his "Exoneratedseries" that "memorializes the experience of incarcerated people," officials said.

Cap will also work on a play "about power and powerlessness" titled "59 Inches" and lead flash playwriting, manifesto writing and painting workshops.
During her residency, Jung, who is a bi-cultural Korean American, will work on an "Earthian Folk Dance" she conceived as "a vernacular dance for all residents of the planet," officials said.
Her work "challenges notions of authorship, and combines a deep investigation into traditional movement forms and aleatory practices," they said.
Jung will present workshops in drumming, maskmaking and traditional and contemporary dance.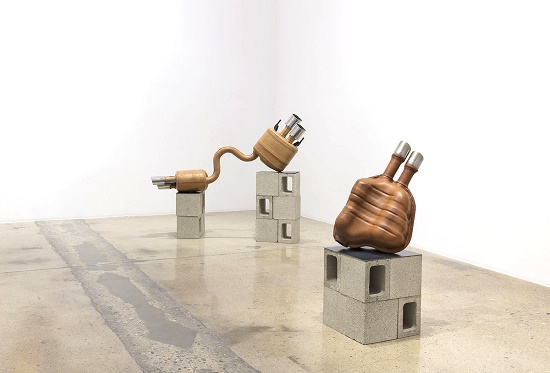 Sculpture by Dahn Gim (Courtesy of the artist)
During the residency from April 24 to July 31, sculptor Dahn Gim will create a series of sound/kinetic sculptures, while composer Alex Wand will work on a sound collage that "interprets the ocean views as seen from the the Camera Obscura," which is perched on the Palisades Park bluffs.
Wand's works explore just intonation, folk music, sound art and music for performance, while Gim's sculptures -- which are made of collected seaside waste and plastic remnants from 3D printers -- focus on "transforming and recontextualizing notions of trash and debris."
The final residency -- from August 7 to November 13 -- will be shared by photographer Natalja Kent and Mimi Haddon, a photographer and costume designer.

Kent will continue working on her project "Movement Artifact," using the residency as "a platform to engage with the public in both embodiment and generative practices."

Haddon will explore "the idea of adaptations and territories through mask, costume and movement."

"Heliorendering" by Natalja Kent (Courtesy of the artist)
"Haddon will document the archetypes and characters that the participants create, for a book about the newly forged narratives and communities that emerge out of the process, cultural officials said.