By Lookout Staff
January 28, 2019 -- Those who adhere to the Chinese Lunar New Year can ring in what promises to be a year of wealth and fortune at Santa Monica Place on Saturday afternoon.
The festivities -- which kick off at two p.m. at the outdoor mall Downtown -- are hosted by comedian Paul "PK" Kim and include the traditional Chinese lion dance, Korean fan dance, stilt walkers and a traditional dough artist and balloon twister.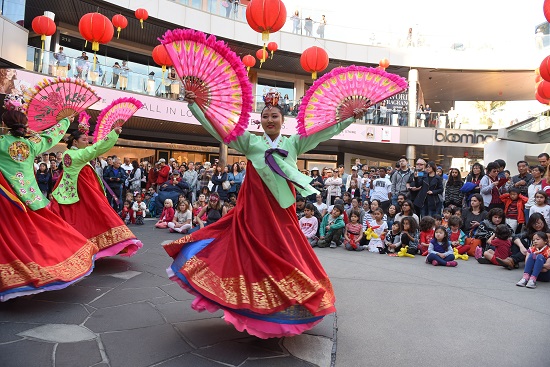 Santa Monica Place Celebrates Year of the Dog in 2018 (Courtesy Santa Monica Place)
The Chinese musical duo, New Year's Wishing Trees, perform classical folk music, and popular K-pop dance group, First Bite, will take part for the first time this year. There also will be family-friendly arts and crafts.
"Santa Monica Place is an international destination and the Lunar New Year holiday is meaningful to our local community and visitors," commented Stephanie Eglin, Senior Manager, Marketing, Santa Monica Place.
"Bringing the cultural traditions of the holiday to life through activities and entertainment offers a great opportunity for the community to come together and celebrate."
During the event, patrons can hang a wish on the branches of the two New Year's Wishing Trees for a donation that will benefit Chinese Students and Scholars Association (CSSA) at UCLA.
The group is devoted to organizing activities for Chinese student groups and "promoting traditional Chinese culture on the UCLA campus," mall officials said.
The pig -- whose big ears and chubby faces are signs of fortune -- is the twelfth, and last, of the zodiac animals and is known for having a beautiful personality, according to chinesenewyear.net.
There are myths to explain the pig's tardiness in the zodiac.
"According to one myth, the Jade Emperor said the order would be decided by the order in which they arrived to his party, according to the site. "Pig was late because he overslept.

"Another story says that a wolf destroyed his house. He had to rebuild his home before he could set off. When he arrived, he was the last one and could only take twelfth place."
Recent years of the pig were 1935, 1947, 1959, 1971, 1983, 1995, and 2007.
More information about Santa Monica Place and the annual Lunar New Year celebration is available here.