By Jorge Casuso
January 28, 2019 -- "Affordability" and "keeping neighborhoods safe" topped the City Council's list of "framework priorities" crafted at a retreat attended by some 50 community members Saturday.
The list -- voted on by the participants -- will help inform the City's upcoming budget for Fiscal Year 2019-20, which the Council is scheduled to adopt in June, officials said.
"By prioritizing these areas of work, we can focus our efforts and resources on what matters most to our community," Mayor Gleam Davis said in a statement after the meeting.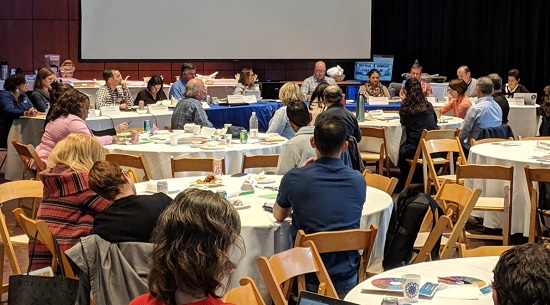 Participants weigh in at City Concil retreat (Courtesy City of Santa Monica)
"Our new Framework creates a clear and tangible process that uses hard data and measurable outcomes so our sustainable city of wellbeing continues to thrive," she said.
The list of six priorities -- hammered out after staff presentations, workshops and a council discussion -- also include reducing homelessness, climate change, "engaged and thriving community" and mobility and access.
The Council also identified six values to "guide, connect, and inform the work of the Framework going forward," officials said.
These include "accountability, equity, inclusion, resilience, safety and stewardship," officials said.
The fourth annual Council retreat is part of "an engagement strategy" that includes a survey taken by 2,816 members of the community that will help "get a pulse of community priorities,"officials said.
The efforts are part of the City's transition to "a reimagined, performance-based biennial budget" that uses "data-driven methodology by which to prioritize the allocation of resources," staff wrote in its report for the meeting Saturday.
"By developing metrics to analyze what works, resources can be more reliably directed to areas that help achieve measurable outcomes," staff said.
A final draft of the Framework will be presented to Council in early June, and "modifications will go into effect as part of the budget," officials said.
The new budget is being forged as the City faces uncertain economic times and a projected $467 million unfunded pension liability could drive the City into increasing debt, finance officials have warned ("Financial Forecast Cloudy as City Prepares to Unveil New Budget," January 18, 2019.
Almost three-quarters the City's $1.57 billion biennial budget is composed of labor costs, officials said ("Santa Monica City Council Approves Record Budget," June 29, 2017).