By Jorge Casuso
April 5, 2019 -- Coogie' s Cafe -- a local staple in the Mid City neighborhood and one of Santa Monica's last affordable old-fashioned diners -- was damaged by fire Thursday night.
The blaze began shortly after the restaurant at 2906 Santa Monica Boulevard closed for the night at 9 p.m., Fire Department officials said.
Staff members discovered the fire and immediately evacuated, said Captain Patrick Nulty, the Fire Department spokesman.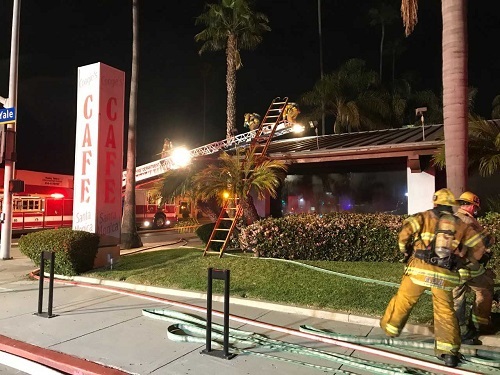 Santa Monica Firefighters fight blaze at Coogie's Cafe (Courtesy SMFD)
"Firefighters arrived in 4 minutes and were confronted with heavy amounts of fire which was spreading rapidly throughout the rear portion of the restaurant and to the exterior vegetation," Nulty said.
A total of 28 Firefighters "aggressively battled the flames inside the building while conducting search and rescue operations," he said.
The fire was brought under control in 18 minutes before it could spread to surrounding buildings, Nulty said.
"Fortunately, there were no injuries reported to occupants or first
responders," Nulty said.
Santa Monica Fire Department Investigators remained on scene throughout the night, he said.
The cause is still under investigation.
Santa Monica Police assisted with traffic and perimeter control.