By Lookout Staff
September 6, 2018 -- Santa Monica will celebrate the Ethiopian New Year this month with a festival showcasing the African country's rich cultural heritage.
The Ethiopian Cultural Festival will be held on Saturday, September 22 from 5 to 10 p.m. at Virginia Avenue Park.
The New Year takes place on September 11, which marks the traditional end of the rainy season.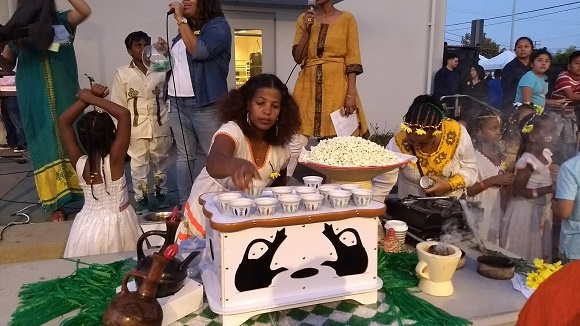 Santa Monica celebrates Ethiopian New Year (Courtesy City of Santa Monica)
Santa Monica will celebrate the turning of the yearly cycle with music and dances from the different regions of Ethiopia, a fashion show, food and the traditional coffee ceremony, City officials said.
There will be a craft area for kids that will include a lesson in how to write their names in Amharic, the language of Ethiopia, and making daisy crowns and pins.
Those who attend will be given yellow daisies, the traditional flower for the Ethiopian New Year.
Guests also will be treated to a sampling of the country's cuisine and can participate in the traditional coffee ceremony.
In Ethiopia, the day starts with a morning church service, followed by family gatherings that feature a traditional meal of injera (flat bread) and wat (stew).

After the meals, young girls wearing new clothes gather daisies for bouquets they present to friends while singing New Year's songs.
It addition to making the end of the rainy season, the date is associated with the return of the Queen of Sheba after her visit to King Solomon in Jerusalem around 980 BC.
The event is presented in conjunction with Virginia Avenue Park's Parent Connection Group and the Ethiopian community.