By Jorge Casuso
September 6, 2018 -- Santa Monica planning officials are embarking on a long-awaited initiative this fall to preserve the Pico Neighborhood from a wave of gentrification that threatens its character and affordable housing supply, City officials announced this month.
The move comes after the City Council in January voted to make a zoning plan for Santa Monica's poorest and most diverse area its top planning priority. The Council first identified the issue in May 2015.
City planners already have embarked on "understanding the existing physical conditions and zoning analysis" of the neighborhood, said a report issued this month by Planning Director David Martin and Julie Rusk, who heads the City's Office of Civic Wellbeing.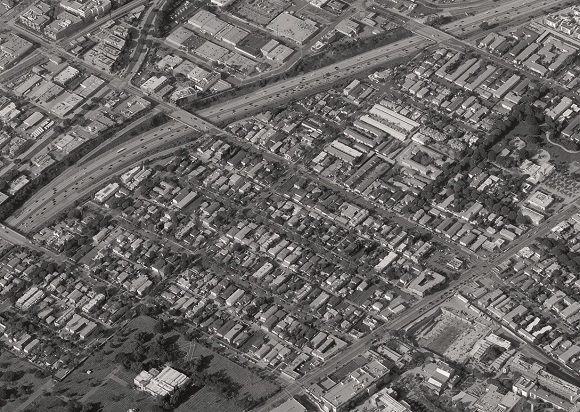 Aerial view of Pico Neighborhood (Courtesy City of Santa Monica)
Planning staff will "identify potential concepts for zoning amendments that could better preserve homes, neighborhood character, Boulevard health and quality of life for Pico inhabitants," Martin wrote.
Staff also will determine whether there are "distinct characteristics" within the neighborhood that could merit the creation of a unique zoning district similar to the one in Ocean Park.
The Pico Neighborhood -- an area long characterized by families who are low-income, working-class and immigrants -- runs roughly between Pico Boulevard and the 10 Freeway from Lincoln Boulevard to the city's eastern border.
The plan also will address the loss of housing in what has traditionally been Santa Monica's most affordable neighborhood.
In 2014, the Pico Neighborhood was hit with a skyrocketing number of rental evictions, according to a San Francisco-based eviction-monitoring research group ("Mapping Shows Pico Neighborhood Ground Zero for Skyrocketing Evictions in Santa Monica," August 27, 2015).
"In response to ongoing community concerns regarding displacement and housing affordability," Martin said, "staff is undertaking an assessment of the residential buildings in Pico that are most vulnerable to change.
"It is anticipated that this assessment may better inform a possible set of recommendations to ameliorate the loss of existing housing units and displacement," he said.
But planning officials -- who will hold several community charrettes focused on zoning and land use regulations -- caution that other tools may be needed.
"This process may also reveal that zoning alone cannot address issues related to gentrification and displacement," the report said
Tackling those issues could require "the broader set of tools envisioned in the PWP (Pico Wellbeing Project)" that "are better suited to address" those concerns, staff wrote.
Shortly before the Council directed staff to study the issue three and a half years ago, a local residents' group began pushing for special zoning protections ("Pico Neighborhood Pushes for Special Zoning District," March 13, 2015) .
The Pico Neighborhood Association -- which is a plaintiff in a voting rights lawsuit against the City -- said the protections were needed to stem creeping "gentrification" changes.