By Jorge Casuso
September 5, 2018 -- Santa Monica's second universally accessible playground will open this month between the Pier and the Annenberg Community Beach House, making it the fifth play area on the beach, City officials announced this week.
Designed by Patrick Tighe Architecture Inc. of Los Angeles -- the firm responsible for Airport Park -- the new playground will officially open Saturday, September 15 at 10 a.m.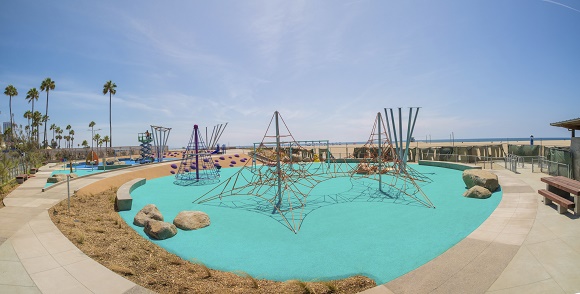 North Beach Playground (Photos by Constance Farrell courtesy of City of Santa Monica)
"With the addition of the North Beach playground, families visiting Santa Monica State Beach will now have five unique locations to make play a bigger component to having a great day at the beach," said Karen Ginsberg, director of Community and Cultural Services.
The park include separate playing areas for children 2 to 5 years old and 5 to 12 years old that inspire "activity, mobility and imagination," officials said.
"Both play areas are highlighted by barrier-free equipment such as a two-mast space net, a bird nest basket swing, and a sensory garden," officials said.
"These structures will allow for increased maneuvering space and are complimented by accessible surfaces and paths."
Located east of the beach trail at Montana Avenue, the park is in close proximity to restrooms and a parking lot and does not require crossing the beach bike path to reach it.
The playground is expected to revitalize the north beach area for both visitors and north side residents and takes advantage of the success of the Annenberg Beach House situated 1.4 miles north of the Pier, staff said.
While law requires all parks to be accessible to the disabled, universally accessible playgrounds are designed so disabled and non-disabled children can play together.
Santa Monica's first universally accessible playground, which opened at South Beach Park in 2013, became an instant hit with children and families, City officials said.
Other beach parks are the Ocean Park playground, Muscle Beach's equipment for kids and the Annenberg Community Beach House playground.
For more information visit santamonicaparks.org/north-beach-playground