By Niki Cervantes
Staff Writer
November 16, 2018 -- Downtown Santa Monica is in full holiday swing with skaters gliding on ice amid swirling snowflakes, twinkling lights and a soon-to-debut bright light show on the Promenade.
It's all part of the annual Winterlit celebration sponsored by Downtown Santa Monica Inc. (DTSM) that will once again turn Santa Monica's central business district and its renown Third Street Promenade into a glowing wonderland.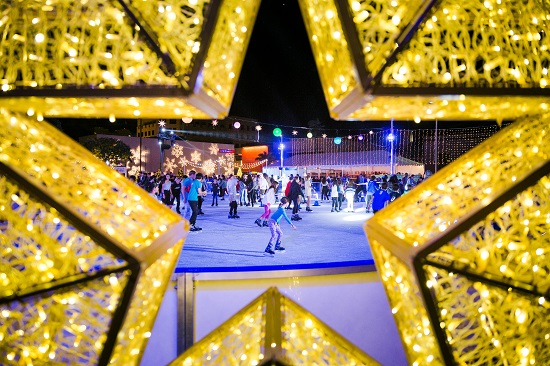 This year's opening night of ICE at Santa Monica (Courtesy Downtown Santa Monica, Inc. (DTSM)
The area "will be glowing like never before," Downtown officials said, "with thousands of colorful, twinkling lights and a daily dancing neon light show" that kicks off Monday evening.
The Merry & Bright Light Show -- which is synchronized to festive show tunes and features falling snow -- takes place every half hour between 5 p.m. to 10 p.m. at the 1200 block of the Promenade.
The annual Winterlit festivities kick off November 30 at 6 p.m. with the City of Santa Monica's official tree lighting ceremony also at the 1200 block of the Promenade.
Santa and Mrs. Claus will be there, and they'll stick around to take part in a variety of other events, such as breakfast and kids crafts, kids club and pets night.
The annual Menorah Lightings will take place from December 2 to December 9 at 6 p.m. on the 1300 Block of the Promenade.
ICE at Santa Monica, which kicked off its 12th year on November 8, transformed a surface parking lot at 1324 5th Street into an 8,000-square-foot skating rink that attracts an estimated 60,000 skaters each year.
The rink -- which is open through January 21 -- provides skate rental and all-day admission of $15, with locker rentals of $5. It is open through January 21. For more information about ICE click here
This year's ICE offers a special holiday treat: "Plaza Film Nights," sponsored by "The Plaza at Santa Monica," the proposed 357,000-square-foot mixed-use development on City-owned land Downtown.
The series -- which kicks off next Wednesday -- screens family films at 6 p.m. and LA films that offer "a cinephile's exploration of the City of Angels' role in motion pictures" at 8 p.m.
Next week's double feature is the 1998 film "Smoke Signals" and the 1961 film "The Exiles." The series includes such classics as "Chinatown" and "Die Hard" set in LA, and the family films "A Christmas Story" and" Home Alone."
The outdoor film series gives the public a taste of the kind of community events that would be offered if the Plaza at Santa Monica is approved, Downtown officials said.
"It's the kind of activities they will have if they build the project," said Kevin Herrera, senior marketing and communications manager for DTSM. "It's a demonstration of what they plan to offer the community."
The film series ends January 16 with screenings of the films "Happy Feet" and "Killer of Sheep."
For a full schedule of Winterlit events click here