By Lookout Staff
May 25, 2018 -- The Chris Carrey PAL Education Scholarships program gave a total of $21,500 for post-high school education expenses to seven Santa Monica club members last week.
The scholarships were presented May 17 at the PAL Recognition Dinner and Awards Ceremony attended by more than 250 guests at the DoubleTree Suites in Santa Monica.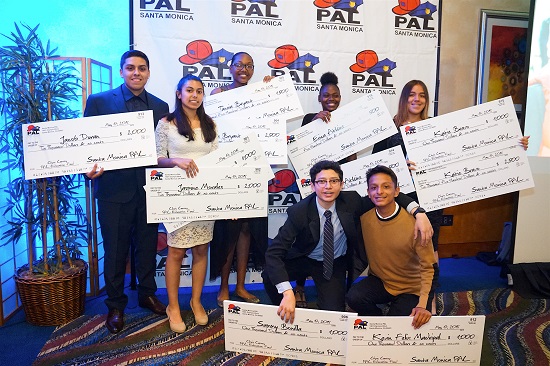 Chris Carrey PAL Education Scholarship winners Duren, Morales, Bryant, Atkins, Bravo, Bonilla and Madrigal (Courtesy santaa Monica PAL)
Established through a joint gift from Ed Simmons and Standard Parking and from Neil and Karen Carrey, the endowment fund provides scholarships to PAL members who meet required criteria and show financial need.

Now in its 16th year, more than 100 scholarships totaling $245,000 have been awarded to local PAL youth.
"On behalf of the PAL kids and our entire organization, we are extremely grateful to all of the participants in the Chris Carrey PAL Education Scholarships program," says Eula Fritz, director at Santa Monica PAL.
"Their donations help each student continue with their academic dream," Fritz said. "Without their support, these kids would most likely not have an academic path to pursue."
This year's scholarship recipients are Erica Atkins, $3,000; Sammy Bonilla, $4,500; Katie Bravo, $3,500; Taneia Bryant, $4,000; Jacob Duren, $2,000; Kevin Felix Madrigal, $1,500, and Jasmine Morales, $3,000.
"PAL was there to guide me through all the rough patches I had," said Katie Bravo, PAL member for four years. "I don't trust or love any organization as much as I trust PAL."
Said Kevin Felix Madrigal, PAL member for nine months, "PAL has changed me, it has made me more of a leader and has brought out the good in me."
"I am glad to say that joining PAL when I was six years old was the best decision my mom has ever made for me because it shaped me into the person I am today," Taneia Bryant, scholarship recipient and PAL member for 11 years.
In addition to presenting the Chris Carrey PAL Education Scholarships, PAL presented Community Recognition awards to volunteers Ebonicia Fisher and Kevin Jackson for their "impact on the lives of youth."