By Jorge Casuso
June 22, 2018 -- This weekend, paddle board racing returns to one of the first spots where the sport was launched on the mainland using a lifeguard's wooden board -- the Santa Monica Pier.
On Saturday and Sunday -- 84 years after the first official paddleboard race was held next to the pier -- Santa Monica's historic landmark will once again host one of the main ocean events in the world.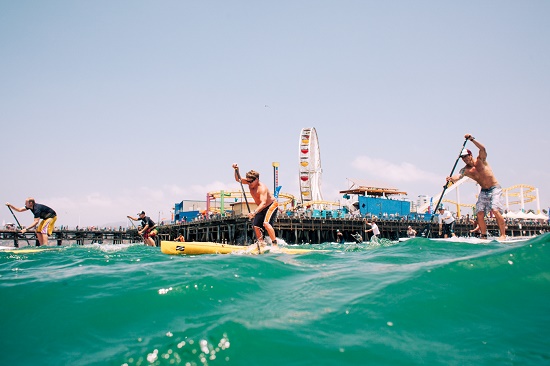 Santa Monica Pier paddleboard race (Courtesy Santa Monica Pier)
Under the new name Pier 360 and presented by CLIF, the event that revived the sport in 2010 is expected to draw the top paddleboard racers from around the world.
"The 2018 event is going to be bigger, more competitive and exciting that ever," organizers said.
"We are introducing more events on land and sea, including lifeguard competitions, King of the Beach volleyball tournament and a Red Bull skate experience on the Pier."
Paddle board races include the short course paddle, long course paddle, elite races and SUP / Paddleboard Knockout.
The accompanying Beach Festival features live music, Polynesian dancing, food, Beer & Spirits Garden and a one of-a-kind Museum of Beach Culture, featuring surf & skate history from the past 100 years, organizers said.
Paddle racing was launched by Santa Monica lifeguards, including the legendary Pete Peterson, in the early 1930s, according to SUP Magazine.
The lifeguards "began racing paddleboards -- which were originally wooden planks used by lifeguards as rescue tools -- for fun before the first official paddleboard race was held next to the pier back in 1934," SUV wrote.
"Santa Monica remained the hub of paddle racing until around 1950, when the surfing craze took over and the racing died out."
Stand Up Paddle (SUP) racing saw a reemgence in the 2000s and its popularity grew after the first Santa Monica Paddleboard Race and Ocean Festival was launched in 2010, drawing more than 300 competitors.
To participate in theis year's event click here