By Lookout Staff
June 14, 2018 -- There were fewer than 8,000 people in Santa Monica, and car racing was a hot sport when the Vitagraph Film Company decided to open a studio in the beach city.
Founded in Brooklyn in 1897, the fledgling studio would become a prolific maker of silent movies before it was bought by Warner Brothers in 1925.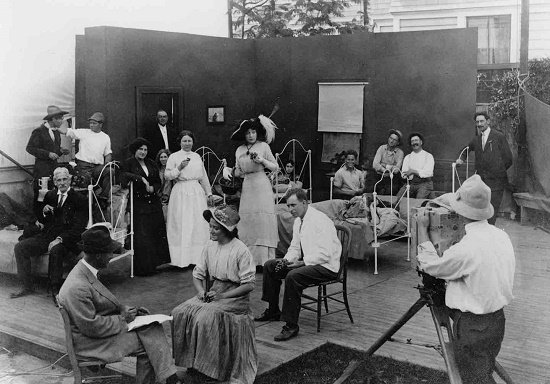 The Vitagraph Film Company and director Rollin Sturgeon (bottom left) in 1912. (Courtesy Bison Archives)
On Sunday, June 24, from 7 to 8:30 p.m. the Santa Monica Conservancy will host "Movies & Moguls in Old Santa Monica," the first of three lectures in the city's oldest building, whih once housed the Rapp Sallon.
Noted film historian Marc Wanamaker will use archival photographs to "reveal the fascinating history of film making in the early days of Santa Monica," event organizers said.
"Drawn by the weather of Southern California which provided year-round outdoor filming opportunities, the early movie makers decamped from New York," Conservancy officials said.
The first studio was set up in Culver City by Thomas Ince, known as the "Father of the Western."
Ince filmed at the Miller Brothers' 101 Ranch and Wild West Show, an 18,000-acre ranch in Santa Ynez Canyon that provided an authentic backdrop.
Ince, Conservancy officials said, "used actual props and hired real-life cowboys and Native Americans as extras."
Wanamaker is the founder of Bison Archives, a research and informational archive on the history of the motion picture industry as well as a fine art library.
He serves as a consultant to more than 20 Southern California historical societies, has contributed to magazine, book and film projects and co-produced a commercial documentary on Hollywood history.
He also has worked on production and research projects for many film and television studies in Los Angeles and New York, event organizers said.
Tickets for the lecture cost $10 or $25 for the three lectures for Conservancy members and $15 per lecture or $40 for the series for the public.
The old Rapp Saloon is small, and it is recommended that tickets be purchased in advance.
Registration is available online. Checks can be mailed to Santa Monica Conservancy, P.O. Box 653, Santa Monica, CA 90406-0653. The name of the ticket buyer, email, address and the number of tickets being purchaes should be included along with the event.
For more information click here https://smc.givecloud.co/products/events