By Jorge Casuso
January 22, 2018 -- The region's growing homeless population will be the focus of an adaptation of a German classic by playwright Luis Alfaro, the new artist in residence at the Annenberg Community Beach House in Santa Monica.
Alfaro, who will hold the post through March 13, is adapting Bertolt Brecht's "Mother Courage and her Children" for Center Theatre Group "with an eye on the homelessness crisis in Los Angeles," City officials said.
Alfaro will present "a fascinating overview of twenty years of art making, community building and national and international theatre work" this Tuesday from 6:30 to 8 p.m. at the beach house.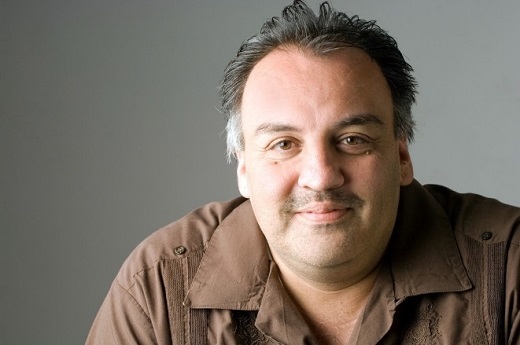 Luis Alfaro (Photo courtesy City of Santa Monica)
During the presentation, the playwright "takes questions, dishes on how the theatrical sausage is made, discusses his roots in the Pico-Union of Los Angeles, and relates his history as a performance artist and political roustabout," organizers said.
The event is one of several to be held during Alfaro's residency. For more information on other events click here.
https://www.santamonica.gov/press/2018/01/17/playwright-luis-alfaro-named-writer-in-residence-at-the-annenberg-community-beach-house
In addition to his Brecht adaptation, the community based playwright, poet, short story writer and journalist will continue working on "The Golden State," a trilogy of plays commissioned by San Francisco's Magic Theatre and the Oregon Shakespeare Festival.
"The first part, Delano, focused on a Pentecostal minister and his flock in the Central Valley birthplace of the United Farm Workers of America union," officials said.

An example of Brecht's epic theater, "Mother Courage" was written in 1939 in resistance the rise of Fascism and Nazism. The play takes place in 17th century Europe during the Thirty Years' War, when there is no food or supplies.
Brecht lived in Santa Monica during the 1940s, where he penned "The Caucasian Chalk Circle" and other plays.
Alfaro spent ten years at downtown's Mark Taper Forum creating and producing new American plays. He is the recipient of a "genius grant" from the John D. and Catherine T. MacArthur Foundation and was recently named as part of the inaugural cohort of Ford Foundation Art of Change Fellows.
His work has been featured in more than 25 anthologies, spoken word CD and a short film, "Chicanismo." He teaches at the University of Southern California.
The residency is part of the Beach=Culture program, an effort of the City of Santa Monica's Cultural Affairs Division.
The Annenberg Community Beach House is located at 415 Pacific Coast Hwy. Parking is available for $3 per hour or $8 per day. The parking machine accepts cash and credit card. Ample bike parking is available.
The Beach House is wheelchair accessible and ADA compliant. For disability related accommodations, call Guest Services at 310-458-4904.
To view & make reservations for future free Beach=Culture events, check annenbergbeachhouse.com/beachculture