By Lookout staff
January 19,2018 -- The benefits of electric flight and the future of flight training will be discussed during a public event at the Santa Monica Airport's Museum of Flying this Saturday.
Co-hosted by the Santa Monica Airport Association, the event features George Bye, who founded Bye Aerospace in 2007 and has worked for two decades as an aerospace entrepreneur and executive.
Bye, who is CEO of the company, has designed the "Sun Flyer" family of 2 and 4-seat electric aircraft and two new solar-electric hybrid unmanned aerial vehicle (UAV) concepts.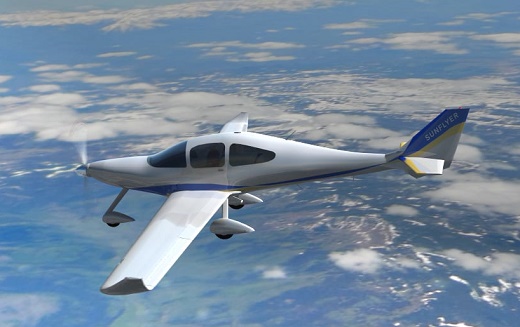 Sun Flyer (Courtesy Bye Aerospace)
The designs use "advanced aerodynamics, composite structures, and alternative propulsion systems," event organizers said.
"General aviation is ready for a much-needed boost, and the benefits of electric flight, including lower noise and emissions, are particularly important to airports like Santa Monica Airport," Bye said.
Dave Hopkins, Vice-President of the Santa Monica Airport Association, called Saturday's event "timely."
"Electric aircraft, which offers zero emissions and near-silent operation would be most welcome at Santa Monica Airport for the next 100 years of operation at the historic airport," said.
The Airport Association has been waging a legal battle to keep SMO open after the City and the Federal Aviation Administration (FAA) struck a deal a year ago to shutter the century old airport by the end of 2028 ("City, FAA Agree to Close Santa Monica Airport in 2028," January 28, 2017).
Opponents in the decades-long battle to shut down the airport say it is too close to homes and generates too much noise and jet pollution.
The museum will provide a special $5.00 admission from 9:30 AM to 11:00 am. Bye's presentation will begin at 10:00 AM.
For more information and to reserve tickets click here: