By Niki Cervantes
Staff Writer
January 18, 2018 -- With the popular Twilight Concert Series undergoing major changes, the Santa Monica Pier board on Wednesday welcomed a new executive director to help usher in "an ambitious new era."
Negin Singh -- the founder of an "experimental production group" -- was hired by the Pier's board of directors to fill the job held by Jay Farrand, who left last summer when talk of "re-imagining" the popular summer-time Twilight concerts gained momentum due to huge crowds.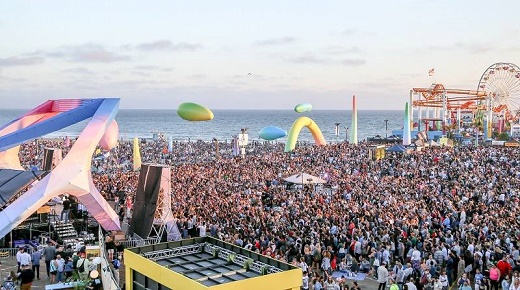 Concert at Santta Monica Pier (Courtesy City of Santa Monica)
"I've been an artist all my life and a producer before I knew what the term meant," Singh said. "I'm passionate about creating an enriching experience that's accessible to all.

"We know that people will come to the Pier, but how can we ensure that they leave feeling full? I'm looking forward to telling the story of Santa Monica through the Pier that gives locals a sense of pride and leaves visitors with rewarding memories," she said.
The City Council voted in December to re-brand the eclectic concert series ("Santa Monica 'Twilight' Concert Series on Pier Survives Proposal for 2018 Hiatus," December 13, 2017).
Its 2018 replacement will be more local in appeal, moved to sometime in the fall and possibly more like a family-oriented festival.
Wednesday's announcement said Singh will preserve the Pier's past while helping to "re-imagine" the "Twilight" summer-time concert series as it enters its 34th year.
"Singh is excited about the challenge of calibrating the popular event to work for everyone," the agency said in a news release.
The Santa Monica Pier Corporation also "plans to introduce new events geared toward locals while amplifying the impact of annual mainstays like the S.T.E.A.M Innovation Fair," it said.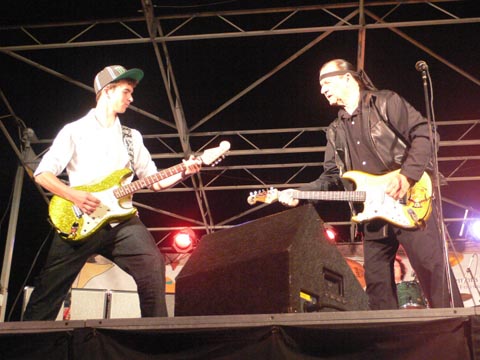 Surf guitar legend Dick Dale and his sonny Jimmy perform at pier concert in 2009
Singh steps into the position held on an interim basis by Jim Harris. He replaced Farrand, who announced in August he was leaving his post after a Twilight concert last summer by Khalid.
Khalid -- who had suddenly become a hit among a young audience -- attracted such a huge crowd that officials began considering ending the series ("Crowd Size at Santa Monica Concert Smaller Than Reported, Pier Officials Say," June 30, 2017).
"Singh's deep experience in conceiving and producing public events will add important professional leadership as we rethink the pier concert series, focus on other events that will bring people to the pier, and support pier businesses, year-round," said Abby Arnold, a board member.
Singh's experiential production group cARTel is behind LA events such as BROKE LA (formerly Brokechella) and the No Budget Film Festival and has produced for clients such as Wonder Women Tech, Sunstock Solar Festival and Indian Film Festival, the board's announcement said.
"In driving each festival's artistic vision and operations, Singh recruited artists, small businesses, volunteers, non-profits, and community members to participate -- skills that pair perfectly with the Pier's full calendar of events and entertainment -- and worked alongside city officials to grow events responsibly," it said.
She was also "DAQRI's Director of Inspiration," official said.