By Zina Markevicius
Special to The Lookout
January 5, 2018 -- Meatless burgers that bleed. Fried sweet potatoes that melt in your mouth. Kale salads, prawn pizza, and even masala ice cream.
Santa Monica is rich with restaurants, and the upcoming Santa Monica Restaurant Week is an invitation to explore these treasures, from trendy to traditional. At more than 30 restaurants spread across the map, the promotional event sponsored by Santa Monica Travel & Tourism (SMTT) will be held January 8 to 14.
This year's theme is the pomegranate. Each venue offers a special menu item including the ruby red fruit found at the Santa Monica Farmer's Markets and known for its healthy antioxidants.
A number of restaurants are presenting kale salads with pomegranates, and the featured dishes may not be captivating enough to draw diners. But the event serves as a tempting invitation to tour and taste in the city's eight neighborhoods, as defined by SMTT.
Pico Boulevard
A cheerful young buzz fills Upper West, the easternmost restaurant of Santa Monica Restaurant Week, located just west of Centinela and across from Trader Joe's. The place is full of energy, even on a Monday night.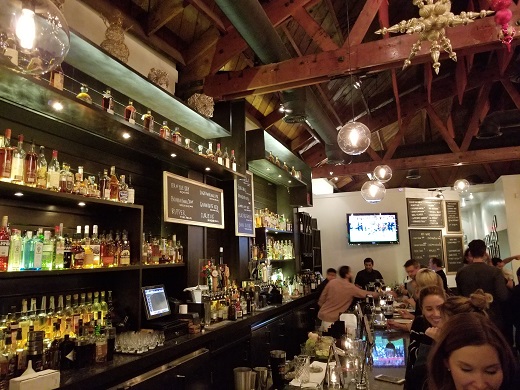 The bar at Upper West on Pico Boulevard (Photo by Zina Markevicius)
Diners snap selfies under loft-like beamed ceilings and the amber hue of Edison bulbs. There are extensive whiskey and modern beer selections, and everyone is smiling.
Chef Nick Shipp is also smiling. His featured dish is the Fried Sweet Potato with Chimichurri, Pomegranate and Queso Panela ($9). Rich chunks of fried sweet potato are generously topped with spicy chimichurri sauce, crunchy pomegranate and a sprinkling of smooth Mexican cow's cheese.
"The chimichurri has a garlicky bite to it," said the charismatic Shipp, and he wasn't exaggerating.
The sweet potato melts in your mouth and is enlivened with contrasting heat and tartness. It comes together like a frisky comfort food. With a version found year round on the menu, this dish is unique and delicious.
Following what is in season, "we change the menu a lot," said Shipp, but his popular Braised Lamb Crepes ($13) have been offered for 8 years.
The earthy leg of lamb with spinach is tucked into a crepe accompanied by Israeli feta cheese, a thin yellow slice of preserved lemon and a dark lavender demi glaze. Raisins bring out the lamb's sweetness.
Upper West presents a large selection of appetizers to share such as the lamb crepe, plus a gluten free menu and crafted cocktails. For more Restaurant Week options on Pico, head west to The Brixton and Lunetta.
A few blocks to the beach, Longitude Bar + Restaurant at Le Meridien Delfina Santa Monica offers a special three-course option featuring pomegranate infused apple salad, seared striped bass and bing cherry tart with pomegranate ice cream ($38).
Downtown/Third Street Promenade
Locando Del Lago is a familiar face on the Third Street Promenade since 1991. Northern Italian food is the specialty here with an emphasis on locally sourced ingredients with a list of farms proudly displayed, including Malibu's Sycamore Farm for honey and oranges and Paso Robles' Fair Hills Farm for apples, among others.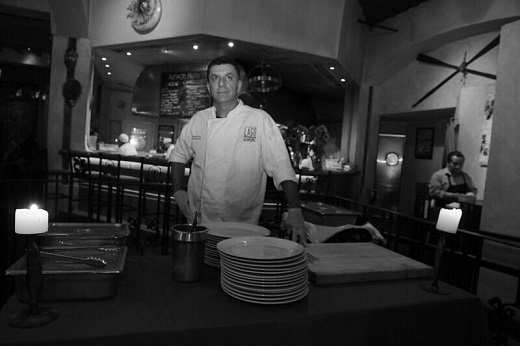 Locando Del Lago Chef Daniele Turchetti (Photo courtesy SMTT)
The restaurant also buys from the Downtown Santa Monica Farmers Market held right outside its doors on Wednesdays and Saturdays.
The Restaurant Week offering hits multiple points on the palette. Sweet and sour, rich and tart, the Insalata di Puntarelle is a surprise with grilled tiger shrimp and cuttlefish, which are soft and mild like heart of palm.
Chicory cuts the sweetness from the seafood with a smoky undertone, plus juicy gaeta olives add satisfying saltiness. Pomegranate dressing rounds out the dish with brightness. It is a surprising combination.
In addition to traditional antipastos, pastas, and roasted meats, Locando del Lago presents some fun plates that feel very Californian. The Jumbo Prawn Pizza ($32) is eye-catchingly crowned with the head of the crustacean.
A specialty of the house, the thin crust is topped with roasted bell pepper, zucchini and lots of gooey mozzarella. A bit rich to eat as a meal alone, this dish will quickly disappear if shared.
A delightful splurge, the Lobster Panzanella ($32) is one pound of chilled lobster served with creamy burrata cheese, heirloom tomatoes, cucumbers, scallions, black olives, basil and meyer lemon. Ciabatta croutons deliver a satisfying crunch to another dish that will be devoured quickly.
Another Italian favorite in this neighborhood is Obica Mozzarella Bar, which is presenting Quinoa and Pomegranate Salad.
A taste of summer in January, this dish brings together red quinoa, sweet crab meat, creamy avocado, delicate papaya with refreshing mint, radish and pomegranate in a pomegranate vinaigrette ($20; $18 without crab).
Main Street
The epitome of contemporary food trends, Bareburger might seem pretentious if it wasn't so darn charming. Santa Monica residents and co-owners Mark Turner and Chris Crouch are passionate about healthy, sustainable ingredients and the story of how this global franchise is growing.
Their burger-centric menu outlines the pedigree of each item. For example, the elk is grass fed, antibiotic free, hormone free, humanely raised and 90 percent lean.
The three cheese options are all organic, vegetable rennet, grass fed cows and RBGH free. Their uber trendy Impossible Burger is a vegetarian burger that bleeds like red meat and a hard won achievement for the meatless world.
While ticking all the boxes on food trends, Bareburger also delivers on taste for Santa Monica Restaurant Week. The Bomb Chicken Pome features grilled lemon chicken, spinach, apples, aged cheddar and pomegranate in a collard green wrap ($12.95).
Open mic nights, movie nights and a cute back patio oasis are more reasons to visit this restaurant. With a hearty sense of humor and relaxed beachy vibe, Bareburger seems to welcome diners with open arms to hang out and eat an old favorite or something totally new.
Up the street, the popular Dolcenero Gelato is featuring a vegan pomegranate sorbet ($4.50; $5.50; $6.50), and down the street, Enterprise Fish Co. offers pomegranate kale salad.
More Neighborhoods to Explore
SMTT presents five more Santa Monica neighborhood groupings. Located between Wilshire and Olympic Boulevards is Mid-City, where salads are the thing for Restaurant Week.
The Argentinian favorite Malbec offers Ensalada de Invierno ($14.95), a kale and radicchio salad with pomegranate seeds and toasted pistachios. Australian Little Ruby has a pumpkin salad ($10.50), while Asian fusion Tiato offers Crispy Goat Cheese Salad ($13) with pomegranate ginger reduction.
Jumping north to the Montana Avenue neighborhood, there are more salads at Osteria Bigoli and Kye's, while unsurprisingly, Pinkberry covers dessert with pomegranate yogurt ($5.45 small with toppings).
Neighbors on Wilshire Boulevard, Melisse includes pomegranates in its tasting menus, and Mexican stalwart El Cholo offers a spin on its popular and strong margarita with infused pomegranate juice ($11.50).
The Ocean Avenue and Santa Monica Pier areas offer the most options to jump into Restaurant Week.
Try Hokkaido Scallops ($18) at Sushi Roku with pomegranate seeds, kiwi and yuzu jelly, or the oysters with pomegranate mignonette and a pomegranate lemonade ($8) at The Albright. Finish with Pomegranate Masala Ice Cream ($5.75) at Scoops Ice Cream & Treats on the pier.
No participants in the Ocean Park/Santa Monica Airport neighborhood to date, but there are a growing list of restaurants covering the rest of the city map.
Happy eaters who share their Santa Monica Restaurant Week experiences via social media have the chance to win a $500 gift card to one of 27 participating restaurants.
To enter the contest, post on Instagram, Twitter, or Facebook using #SMRestaurantWeek. Also, The Lookout invites diners to share their local restaurant reviews by emailing editor@santamonicalookout.com.
For more information on Santa Monica Restaurant Week, click here