By Lookout Staff
December 24, 2017 -- Calvary Baptist Church is once again hosting Santa Monica's historic life-size Nativity scenes that have been a holiday tradition since 1953.
The predominantly black Baptist church at 1502 20th Street began hosting the scenes last year, becoming the second church to host the displays since atheists mounted a campaign that forced their removal from Palisades Park in 2011.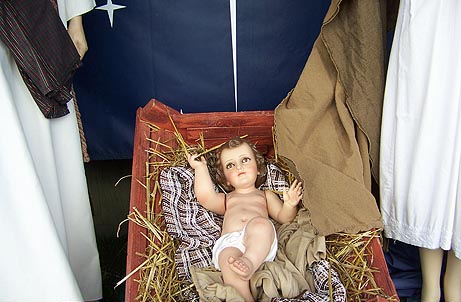 Baby Jesus in Santa Monica Nativity scenes display (Courtesy Santa Monica Nativity Scenes Committee)

Mount Olive Lutheran Church in Ocean Park hosted the scenes depicting the Christmas Story from 2013 to 2016.
"Each year we face new struggles in keeping the tradition alive," said Zachary M. Scribner, the committee chair. "This year it was rebuilding our 30 year-old wooden booths."
The 13 nativity scenes -- created with mannequins and elaborate backdrops -- will line the south side of Broadway from 19th Street and continue south along a brief stretch of 20th Street.
Each scene depicts a different aspect of the early life of Jesus Christ, from the Annunciation of his birth through his boyhood.
In 2011, the City removed the Santa Monica Nativity Scenes from Palisades park after a group of atheists swamped the city with applications for its own displays ("Santa Monica Nativity Display Nudged Out by Atheists," December 9, 2011).
Atheists put up signs -- some of them satirical -- that later were vandalized, prompting City officials to eliminate all overnight displays.
Members of the Nativity Committee, a coalition of churches, sued the City on grounds the ban violated the members' constitutional rights, but a U.S. District judge dismissed the lawsuit in November 2012.
"Sometimes the best support is simply taking the time to stop and look at the displays and tell people about the tradition," Scribner said.
Metered parking is available on the street and limited parking in the church.