By Jorge Casuso
December 14, 2018 -- The Superior Court judge in a voting rights lawsuit against the City issued an amended tentative ruling made public Friday barring any elections under Santa Monica's current at-large system.
The ruling issued Wednesday by Judge Yvette M. Palazuelos requires that all future City Council elections be district-based elections "as defined by the California Voting Rights Act, and in accordance with the map attached hereto."
The map attached to the amended tentative ruling depicts only the Pico Neighorhood District.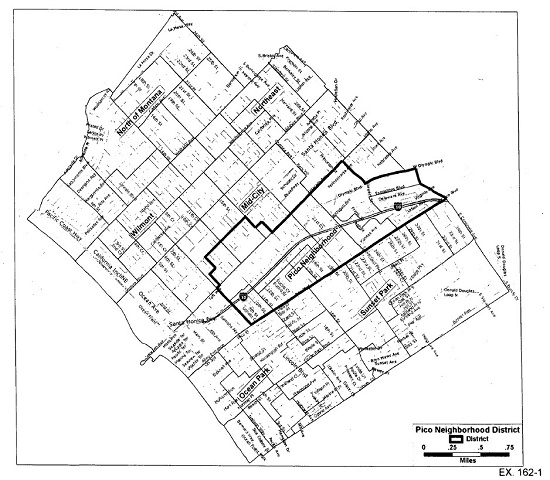 Attached map with Pico Neighborhood District
The City viewed the three-sentence ruling and the attached map as a rejection of a map composed of seven districts presented by the plaintiffs ("Plaintiffs in Voting Rights Suit Propose District Map, April Election," November 20, 2018).
City Attorney Lane Dilg said the City was "pleased (the decision) appears to reject the plaintiffs' request" to replace the City's at-large election system "with the seven-district map drawn by the plaintiffs' hired expert."

The City, Dilg said, is also "pleased that the court appears to have affirmed that any district-based system imposed in Santa Monica will be drawn with a Pico Neighborhood district as set forth by the court but with public hearings and a full opportunity for community input with respect to other districts."



The plaintiff's lead attorney, Kevin Shenkman, said the court never said in its ruling Friday that "the defendants can draw the rest of the districts."
In fact, he said, the City continues to insist -- counter to the judge's ruling -- that it has not violated the CVRA ("City Says No Remedy Needed in Voting Rights Case," December 3, 2018).
"The defendants," Shenkman said, "have not presented a remedy to a problem they refuse to acknowledge even exists."
Shenkman said it is unclear how a district-based election could be held under the map attached to Friday's ruling, which depicts only one district.
"I think we need to go to court next week and ask for clarification from the court," he said.
A copy of the map posted by The Lookout last month is labeled in the court documents as "EX 261-1" ("Proposed Santa Monica Council Map Places Three Incumbents in One District," November 26, 2018).
The map included in Friday's ruling is labeled "EX 162-1."