By Lookout Staff
October 30, 2017 -- Santa Monica College (SMC) has developed an intellectual property curriculum that has been introduced at the school this fall and at five other community colleges across the country, college officials announced last week.
Developed by Sal Veas, chair of SMC's Business Department, the program offers free course materials that "touch on the basics of patents, trademarks, copyright, and trade secrets for entrepreneurs at the undergraduate level," officials said.
The program is a partnership of the National Association for Community College Entrepreneurship (NACCE) and Michelson 20MM, which "supports and invests in leading-edge technologies and initiatives with the potential to improve postsecondary access, affordability and efficacy," officials said.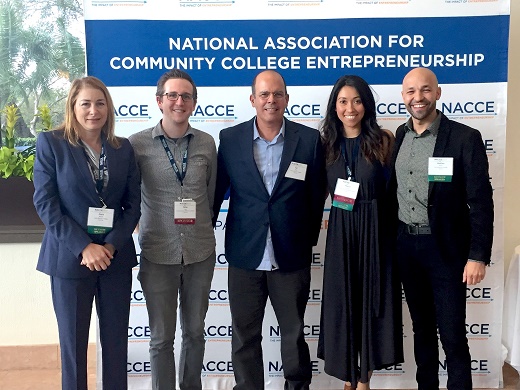 The Santa Monica College Intellectual Property (IP) project team (from left) Professor Dana Nasser (SMC), Program Associate Mike Lisek (The Michelson 20MM Foundation), Business Professor Sal Veas (SMC), Co-Founder Mayra Lombera (The Michelson 20MM Foundation), and Professor Nathan Khalil (SMC).
"With community colleges educating nearly half of all undergraduates, these campuses are the launch pad for many of tomorrow's entrepreneurs," said Dr. Gary K. Michelson, founder of Michelson 20MM.
"These are the breeding grounds for our future creators and innovators, and are where many of our small businesses are born," he said. "Our goal is to amplify IP education efforts and empower all students with the necessary foundational knowledge to succeed in today's economy."
NACCE and Michelson 20MM -- which will be mentoring the participating community colleges starting this fall -- selected SMC after the school introduced the IP content in its Business courses during the summer of 2017.
The six colleges selected for the program are Butte College, Oroville, CA; College of Marin, Kentfield, CA; Glendale Community College, Glendale, CA; Lorain County Community College, Elyria, OH; Santa Rosa Junior College, Santa Rosa, CA; and CUNY Queensborough Community College, Bayside, NY.
IP accounts for 45 percent of the country's total GDP and represents 80 percent of the market value of all publicly traded companies, officials said.
The new program can be adapted to different and classes, Veas said

"The modular format gave me the flexibility to easily adopt the appropriate level of depth for each area of IP, whether it was for business law or my introduction to business class," Veas said.
Said NACCE President and CEO Rebecca Corbin, "Understanding the basics of intellectual property and its value and role in science, business and arts professions is a vital component in the education of the many would-be entrepreneurs studying at community colleges."