By Lookout Staff
October 24, 2017 -- Santa Monica College's Synapse Dance Theater will perform new works next month by professional guest artists, award-winning faculty artists and "up-and-coming" student choreographers, college official announced this week.
The performances by "the innovative and widely praised Contemporary Dance ensemble" take place at 4 p.m. and 7:30 p.m. Saturday, November 4, and at 7:30 p.m. Sunday, November 5, in The Broad Stage at the SMC Performing Arts Center, 1310 11th Street.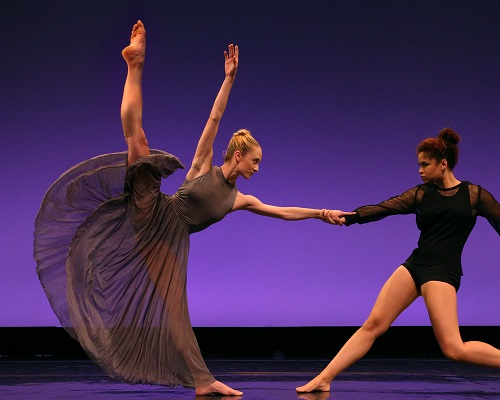 Synapse dance performance (Courtesy Santa Monica College)
The program includes Modern Dance, Contemporary Jazz, Contemporary Ballet and Hip-Hop, officials said.
"Synapse has a longstanding reputation for artistic excellence and innovation," event organizers said. "Since it was founded more than three decades ago, the student troupe has performed throughout the nation."
The performances include the premiere of "Entangled Somewhere..." by professional dancer/choreographer Jae Lee, an SMC dance professor and the troupe's co-director.
The contemporary modern piece illustrates "physical energy caught and twisted together," organizers said.
SMC dance professor and Synapse Co-Director Mark Tomasic, who has worked with a variety of renowned dance companies and choreographers, will re-stage his work "The Rising."
The 2010 piece by the professional dancer and choreographer is "a Halloween offering that examines the acceptance of hyperstylized violence in our society," organizers said.
Internationally acclaimed dancer and choreographer Lillian Barbeito, a guest artist and co-artistic director of Bodytraffic will restage Barak Marshall's work "And at midnight, the green bride floated through the village square..."
The piece is "based in part on a true story about a family of eight sisters and one brother," organizers said.
The program also includes performances and works by faculty choreographers Angela Jordan, Caleb Mitchell, Karen McDonald and Vanessa Van Wormer.
Also creating new dance works for the program are student choreographers Ariel Scott, who has created the modern piece "Instructions Not Included" that explores human behaviors; Milo Poon-Fear; Ari Pulido and Judith Zaoui.
SMC Dance major Sophie Diamond Trentin, who has danced professionally in the Jose Mateo Ballet Theatre and the Sydney Opera House, also will perform.
Tickets range from $20 to $22. Parking is free.

For tickets, go to www.smc.edu/eventsinfo or call (310) 434-3005. For more information, please see www.smc.edu/dance or call (310) 434-3467.