By Jorge Casuso
October 4, 2017 -- Singer songwriter Leonard Cohen's deadpan delivery of melancholic songs penned over the last 50 years earned him the nickname "The Godfather of Gloom."
But there is another side to the musical visionary and poet that will be highlighted this month by his longtime friend and protoge Grammy-nominated vocalist Perla Batalla, who will return to the city she grew up in when she performs at the Broad Stage in Santa Monica.
Batalla's "House of Cohen" on Saturday, October 21 at 8 p.m. will feature songs and rare personal anecdotes that "serve to reveal Cohen's lighter side," concert promoters said.
"The man she knew was more often than not, motivated by sly humor and absurdity," the promoters said, "like Mr. Cohen's deep affection for the .99 Cent Store and his delight at dining on hot dogs at Home Depot."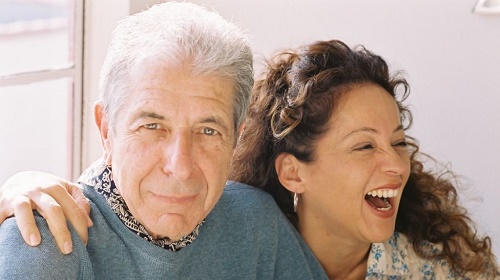 Leonard Cohen and Perla Batalla (Courtesy of the ACE Agency)
Batalla's homage will include selected songs and personal stories from her two decades of touring and recording with Cohen, whose songs, promoters said, "sound like sinful confidences shared over a bottle of blood-red wine."
Batalla grew up in Santa Monica, where her Parents ran the Latino record-shop, Discoteca Batalla on Pier Avenue and Lincoln Boulevard.
"I worked there all the time as a little girl," Batalla told NPR in a 2014 interview. "You walked in and there were records everywhere. My father built the furniture that the LPs were in."
Batalla recalls the live bands that would play at the store on weekends.
"Out front there would be a full mariachi in their costumes," she told NPR. "Hundreds of people would gather down the street. My mother would make food for strangers to just come in off the street and listen to great music.
"And because my father was a DJ, he could get some pretty famous groups here to play for nothing. It was pretty amazing."
Batalla started as a backup singer for Cohen during his tour in 1988. After touring and recording with Cohen in 1993, the lengendary songwriter would encourage her to launch a solo career.
Since her 1994 eponymous debut, Batalla has recorded six albums, including the 2008 Cohen tribute "Bird on the Wire," which was produced with the songwriter's blessing.

Cohen, whose classic songs include "Suzanne," "So Long Marianne," "Bird on the Wire," "Hallelujah" and "Tower of Song," died last November of cancer at the age of 82.
Cohen found it fitting that he lost the copyrights to "Suzanne," which is likely his best-known song.
"The publishing rights pilfered in New York City but it is probably appropriate that I don't own this song," he wrote. "Just the other day I heard some people singing it on a ship in the Caspian Sea."
The song, with its haunting lyrics, seems timeless, as do many of Cohen's songs, and is a staple of Batalla's show.
"In this show, there are times when I ask my audience to sing with me," Batalla said. "I feel that the coming together of voices has the power to touch Leonard's spirit and his lifelong devotion to art and the mysteries of the human heart.
"Live music is about being in the moment, and I always have this secret expectation that as we lift our voices up together we will feel Leonard all around us . . . and we usually do."
Although the show has been sold out, additional tickets may become available. Those interested in adding their name to the waiting list can click here.