By Niki Cervantes
Staff Writer
October 2, 2017 -- Proposals for two apartment complexes in downtown Santa Monica go to the City's Planning Commission on Wednesday, as the pace of more than 3 million square feet in new building picks up after being left in limbo during a long fight over development.
The five-to -six story mixed-use buildings proposed byWNMS, one of the City's largest residential developers, would replace existing surface parking lots.
The larger of the two projects is on Lincoln Boulevard Downtown, which is undergoing a transformation from a heavily trafficked commercial roadway into an apartment strip near major transit stops ("Another Step This Week in Transformation of Santa Monica's Lincoln Boulevard," September 20, 2016).
WNMS proposes turning the property at 1430-1444 Lincoln into a 67,470 square-foot, five- story apartment building with 100 residential units, anchored by ground-floor commercial uses. Although the new Downtown plan requires no parking, the proposal includes a four-level subterranean garage with 296 spaces.
Also on the agenda is a 15,000-square foot development at 1313-1325 6th Street proposed by WNMS. The proposed 42,164-square foot, 6-story complex includes 64 apartments, various commercial uses on the ground floor and a four-level underground garage for 138 vehicles.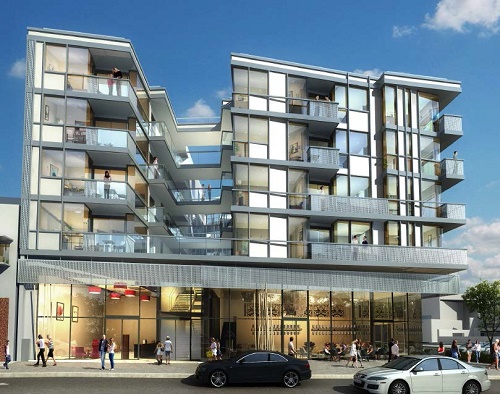 Proposed WNMS project at 1313-1325 6th Street (Courtesy Michael W. Folonis Architects)
The projects would meet Downtown's strict affordable housing requirements by providing a combined total of 45 units in a new senior building near Lincoln and Colorado Avenue.

Both projects require approval of Development Agreements. The Planning Commission acts in an advisory capacity in such cases. The City Council makes the final determination.
More development has been streaming through the City's development-related commissions in the last few months as a backlog, induced by a nearly seven-year battle over the Downtown Community Plan (DCP), begins clearing.
"Regulatory purgatory," said Dave Rand, a land use attorney with Armbruster Goldsmith & Delvac LLP who represents WNMS.
Approved by the City Council on July 25, the DCP maps out development through 2030 that leans heavily into multi-family housing to address a shortage of housing ("Santa Monica Council Sets Highest Affordable Housing Requirement in State for Downtown," July 27, 2017).
Most units will be at market rates -- too high to be affordable for even middle-income earners, although in some of the private developments, builders will be required to set aside 30 percent or more for a mix of extremely low income to moderate income residents.
Approval of the plan clears the way to more than 3.2 million square feet in new building downtown.
The DCP increases housing by building up, since downtown is already built out, and focuses on locating new building close to mass transit, like the Expo Light Rail stop downtown.
In doing so, the City hopes to convince its populace to garage cars in favor of alternative modes of transportation, such as walking, bicycling, and taking buses and trains.
Rand says the 6th Street project is a prime example of the City's "new urbanism" philosophy because of its specific location.
It is close to stops for the municipal bus system, the Expo ligh rail terminal Downtown, not far from the beach and -- for commuters -- just a few minutes to the Santa Monica Freeway.
The WNMS project at 1430-1444 Lincoln Boulevard is one of many mid-level rise complexes meant to transforms the roadway from one for vehicles (and often gridlocked) to a neighborhood with pedestrian and bicycling activity.
The developer proposes 30 off-site affordable housing units (30 percent of project total) to be located at 711 Colorado Avenue in association with a 45-unit 100 percent affordable senior housing project.
The 30 units would consist of a minimum of ten units to be affordable to extremely low-income households and an additional 20 units (10 studio and 10 one-bedroom) affordable to 100 percent AMI households.
For the 6th Street development, 15 affordable units would be located within the 711 Colorado Affordable Senior Housing Project.
The new projects, as well as the City's draft Electric Vehicle Action Plan, will be considered in a special session on Wednesday at 7 p.m. at the Main Library, 601 Santa Monica Boulevard.
Editor's note: A previous version of this article identified NMS as the developer of the project at 1430-1444 Lincoln Boulevard. WNMS is the developer for both projects.