By Lookout Staff
November 27, 2017 -- The moon will be in full view and the Star of Bethlehem scientifically explained during shows at Santa Monica College's John Drescher Planetarium this month.
On Friday December 1, a special observing event provides an opportunity to take a look through various telescopes at a nearly-full moon, the area around its bright crater Aristarchus and the winding canyon known as "Schröter's Valley."
Titled "Schröter's Valley on the Moon and the Seven Sisters," the show also provides a view of the Pleiades star cluster, event organizers said.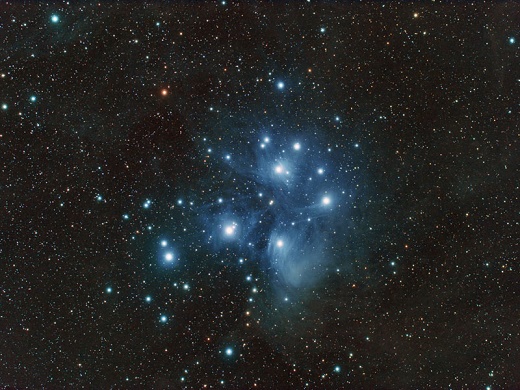 Pleiades Star Cluster (Photo by Antonio Fernandes-Sanchez courtesy of NASA)
Named for the Seven Sisters of Greek lore, the cluster is "one of the prettiest open clusters in the sky, and a harbinger of approaching winter," organizers said.
On Friday, December 8 and 15, the planetarium presents "A Winter's Solstice," which explores the history of ancient observances of the Winter Solstice.
The reversal of the sun's ebbing presence marked by the solstice was celebrated in ancient cultures as a sign of the sun gods' rebirth.
In northern Europe, the solstice was celebrated as a holiday called "Yule," which would take a more modern form in such popular traditions as the Christmas tree, the Christmas wreath and the Yule log.
The show also reviews the science that might explain the star mentioned in the Gospel of Matthew that appeared above Bethlehem the night Jesus was born.
In the Gospel story, the three Wise Men, or Magi, journey to Jerusalem by following the star.
The show, event organizers said, offers "a look at a re-creation of the remarkable planetary conjunction in 2 BCE -- a leading candidate for a scientific explanation of the Star of Bethlehem."

The feature shows are at 8 p.m. and are preceded by "The Night Sky Show" at 7 p.m., offering the latest news in astronomy and space exploration, a family-friendly "tour" of the constellations, and the chance to ask astronomy-related questions.
The John Drescher Planetarium is located near the elevators on the second floor of Drescher Hall, 1900 Pico Boulevard.
Tickets are available at the door and cost $11 (or $9 seniors and children) for the evening's scheduled "double bill," or $6 ($5 seniors ages of 60 or older and children ages 12 and under) for a single Night Sky or feature show or telescope-viewing session.
More information is available by calling (310) 434-3005 or clicking here.