Tribute for Local Activist, Journalist Wednesday at the Santa Monica Pier
We Love Property Management Headaches!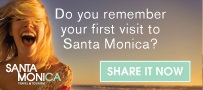 By Lookout Staff
May 16, 2017 -- The different facets of the life of Santa Monica journalist and preservation activist Peggy Clifford will be celebrated during a tribute on the Pier Wednesday.
The setting is an appropriate one for Clifford, who joined the battle to save the landmark structure shortly after moving from Aspen Colorado, where she was a staunch preservationist and respected journalist.



Clifford would remain involved in local politics and continue to use the pen to fight what she viewed as rampant development, co-founding the Santa Monica Mirror and the Dispatch.

She died on February 13 of congestive heart failure at Santa Monica-UCLA Medical Center ("Santa Monica Preservation Activist, Journalist Peggy Clifford Dead at 87," March 14, 2017).

"Her voice had become silent about two years previously due to computer problems and failing health that prevented her from writing," said Ellen Brennan, former chair of the Santa Monica Pier Restoration Corporation.
"When Peggy Clifford was writing, she never felt any need to be politically correct, so she wrote what people in the community were feeling and did not dare say in public," Brennan said.

The tribute will take place at 10 a.m. at the west end of the pier, which was battered by a series of devastating storms in the early 1980s, leading to efforts to tear down what was left of the old wooden structure.
"There are bleachers there, and given her history, it's seems the appropriate spot for such a memorial," said Brennan, who served for 12 years on the pier board.
Those who knew Clifford are invited to join the presenters bid farewell to "our one-of-a-kind, critic, activist and friend," she said.