By Lookout Staff

May 10, 2017 -- Those interested in textile art have plenty to opportunities to learn the craft at the Camera Obscura Art Lab through July, City officials announced Tuesday.

Tracy Bromwich, the lab's new Studio Artist-in-Residence, will presents a series of fabric and fiber dyeing and manipulation workshops for adults starting May 20.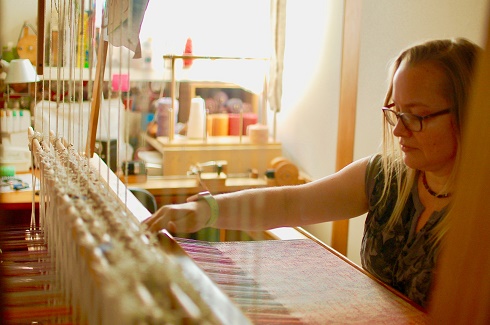 Tracy Bromwich (Photo courtesy of the City of Santa Monica)
"Tracy's residency project focuses on a large-scale weave that draws color inspiration from the natural hues of Palisades Park and nearby Tongva Park," officials said.
Bromwich's residency will include weekly public workshops that teach different dyeing techniques for cotton and wool and culminates in an exhibition on July 29.
A fiber artist and architect, Bromwich applies a modern aesthetic to pre-Industrial Revolution technologies, organizers said.
"Her work explores both process and material, and often employs hand-dyeing techniques informed by the properties of different fibers," they said.
Camera Obscura's Studio Artist Residency program "connects the public with artists and artisans working within and between the worlds of fine art and craft," the lab's officials said.
Resident Artists share their work with the public informally and through public workshops and events.
The lab is located at 1450 Ocean Avenue in Palisades Park, between Broadway & Santa Monica Boulevard four blocks from the Downtown Santa Monica Expo Line Station. Parking is available nearby at Structure 6 and is $2.75 for 3 hours.
For more information, call (310) 458-2239 or email camera@smgov.net.