By Lookout Staff

May 1, 2017 -- If you've ever wondered if fish can think or can recognize you staring at them through the glass of an aquarium or diving mask head over to Christine Emerson Reed Park Tuesday night for a lecture sponsored by the Santa Monica Bay Audubon Society.

Biologist Jonathan Balcombe, author of the New York Times bestseller "What a Fish Knows," will explore the lives of "the planet's most misunderstood and exploited vertebrates," said organizers of the event which starts at 7:30 p.m.

Balcombe, who is director for Animal Sentience with The Humane Society Institute for Science and Policy, will discuss "fish perceptions, cognition, emotion, social behavior and cooperation," organizers said.
The discussion will be presented in the context of "our evolving relationship to fishes and their vital aquatic habitats."

Last September, the local Audubon Society, which rarely recommends books, gave "What a Fish Knows" a glowing review.
"This is a book that should interest everyone, whether you have pet fish, love catching fish, enjoy photographing fish, wonder what life would be like if you were a fish, contemplate your own fishy ancestors 500 million years ago, or simply like to see them on your plate and put them in your mouth," the review said.

Among the startling facts found in the book, according to the Audubon review, are the following:

There are more than 30,000 species of fish -- more than all mammals, birds, reptiles, and amphibians combined.

Fish can plan, hunt cooperatively, use tools, curry favor, deceive one another and punish wrongdoers.

Their courtship rituals are elaborate, and they develop lifelong bonds with their neighbors.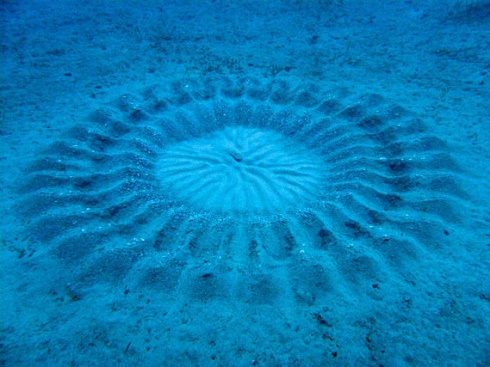 Pufferfish in his sand 'bower' (Kimiaki Ito, National Geographic)
They also can create masterful designs with exquisite details, as illustrated by the "six-foot-wide symmetrical circular pattern" created by a pufferfish by "swimming on his side, while fluttering a pectoral fin," Balcombe wrote in "What a Fish Knows."
"(T)he five-inch puffer spends hours making his masterpiece," he wrote. "He inspects it as he goes, decorating his mural with bits of small shells that he cracks in his mouth before sprinkling them into the central grooves."
The pufferfish, which is highly toxic (there is enough poison in one pufferfish to kill 30 adult humans) builds the circular display to attract a female, which is asexual, to lay her eggs, experts say.
The male's role, after completing the display, is to fan the three to seven eggs with its fins.
Tuesday's presentation takes place at Christine Emerson Reed Park, 1133 7th Street, previously known as Lincoln Park.