By Jorge Casuso
March 14, 2017 -- Preservation activist and journalist Peggy Clifford -- who for two decades used her pen to fight what she viewed as Santa Monica's rampant development -- died last month at a Santa Monica Hospital. She was 87.
As co-founder of "The Mirror" and later the online "Santa Monica Dispatch," Clifford took on City Hall and its support for major projects she believed were erasing what made the beach town unique.
In line with her reclusive nature -- she did most of her reporting on the phone and was rarely seen in public -- Clifford's death on February 13 escaped public notice until "The Aspen Times," where her column appeared for twelve years, ran an obituary March 1.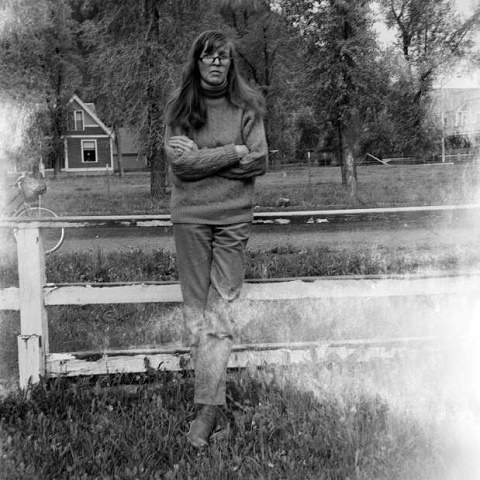 Peggy Clifford in 1970 (Photo by Joan Lane courtesy of Aspen Historical Society)
"Peggy wrote about issues the City didn't want to talk about," said Sharon Gilpin, a political consultant who met Clifford 38 years ago. "She had an acid tongue and a sharp pen."
"Peggy was a well educated, articulate and curious woman with old-fashioned civil manners," said John Bodin, general manager of Election Trust and a "slow-growth" associate of Clifford's in the 1990s.
"She also happened to occupy the intellectual left in her world view and politics," Bodin said. "In other words, she was a studied, considerate and non-reactionary liberal activist. I mourn that she now appears to have been one of the last."

A staunch preservationist, Clifford moved to Santa Monica from Aspen in the early 1980s and joined the fight to save the Santa Monica Pier after a series of epic storms threatened the future of the landmark structure.
She continued to denounce the influence of big money in politics she had railed against in her columns in Aspen, which won the praises of legendary counter-culture journalist Hunter S. Thompson.
"She wrote one of the most intelligent columns in the history of American journalism," Thompson wrote in his introduction to "To Aspen and Back," one of the four books Clifford wrote.
"Her collected columns on Aspen would be a real saga, a million words or more. No one did what she did. Nobody else wrote with the consistency, the genuine love for the valley that she did. Other people might have felt it, but she said it."
Clifford continued her crusade in Santa Monica, becoming the founding editor of the Mirror in 1999 and writing articles that often injected her strong views. In 2006 Michael Rosenthal, the paper's publisher, replaced Clifford as editor.
"The editors were uncomfortable with her piercing observations," Gilpin recalled. "She didn't hold back."
A year later, Clifford launched The Dispatch, an online publication that was more than anything a labor of love.
"Call us sentimental, or naïve," she wrote in the inaugural issue on April 22, "but we not only believe, we insist that residents should have the first, and last, word in Santa Monica.
"Evidence accumulates that City Hall disagrees. Our elected and appointed officials make a great show of their interest in 'community input' and their Herculean efforts at 'community outreach,' but, after all the outreach and input are done, City Hall usually does what it wants to do, not what we want it to do."
Clifford, who jokingly claimed she was "mechanically deficient," continued publishing the on-line news site well into her 80s missing her chance to comment on the issues only when her computer gave out.
"When Chris Zielin and I founded the original Mirror, we never missed an issue," Clifford wrote on August 29, 2015 after the "Dispatch" had failed to appear.
"When we created the Dispatch, we never missed an issue — until about two weeks ago when our fine but exhausted Apple simply stopped.
"In our line, silence is anything but golden and there are some major stories that need our attention. . . and yours. Stay tuned."
Clifford never married or had children, according to the obituary in "The Aspen Times." She has a sister who lives in New York.