By Lookout Staff
March 2, 2017 -- There's little debate that Santa Monica College's (SMC) debate team is one of the best in the region after earning several regional awards during two competitions last month and advancing to a national tournament.
The SMC Speech and Debate Team competed in the Tabor-Venitsky & Southern California LD Championships held at Cerritos College from February 17 to 19 and in the PSCFA "Char Arnold" Spring Championships held at California State University, Long Beach the following weekend.
SMC students Matthew Linsky, Thal Gondim and Ashley Grace were finalists in the Individual Events division at the first competition, with Grace winning third place in informative speaking, college officials said.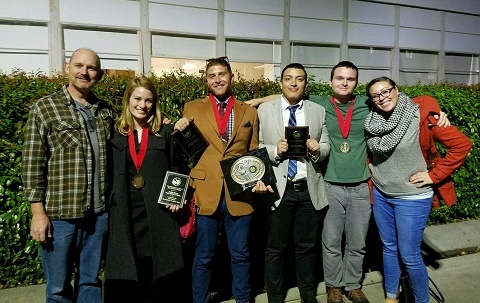 Santa Monica College debate team (L to R): Coach Nate Brown, Ashley Grace, Matthew Linsky, Albert Cueva, Garrett Parker, and Coach Brianna Broady (Photo courtesy of Santa Monica College)
Some 400 students from 24 colleges and universities competed in the tournament, which included individual events such as informative, persuasive, and extemporaneous speaking.
At the second tournament Linsky, Gondim, and Grace received awards in the International Public Debate Association (IPDA) division, SMC officials said. The three advanced to the semifinals round, where they received a bronze medal.
Linsky won third place in Open Impromptu speaking in a field of 94 competitors, and Grace won third place in Open Informative speaking in a field of 54 competitors, officials said.
Garrett Parker, a new debater on the team, was a finalist in Novice Impromptu speaking, and SMC received third place in the Sweepstakes category for limited entry programs, officials said.
"Our speech and debate students work tirelessly and give up their precious weekends to positively represent our team and Santa Monica College," said Luis Andrade, SMC Communication professor.
"Our next stop is the Phi Rho Pi Nationals Tournament, the Super Bowl of community college speech and debate, which will take place in Washington DC in April," Andrade said.

For more information on the SMC Debate Team, contact Andrade at andrade_luis@smc.edu or 310-434-4771.