By Lookout Staff
June 21, 2017 -- Thousands of spectators are expected to line Main Street for the 11th Annual Santa Monica 4th of July Parade on Independence Day.
Presented by the Ocean Park Association (OPA), the parade has become a popular Santa Monica community celebration that combines an old-time homespun feel and the city's funky beach town sensibility.
The parade kicks off at 9:30 a.m. at the intersection of Pico Boulevard and Main Street and proceeds south on Main to Marine Street, then heads west along Barnard Way to beach parking lot #5.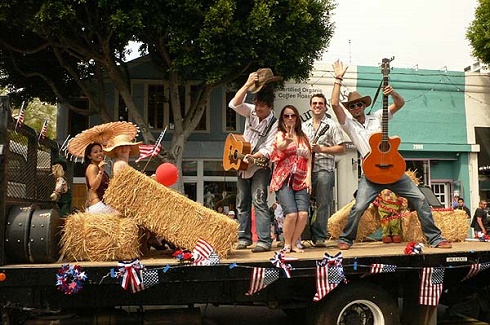 Band in 2007 Independence Day Parade (Photo for the Lookout by Frank Gruber)
More than 10,000 people were involved, as participants, volunteers and spectators, in last year's parade and "this year promises to be better than ever," according to co-founder and parade chair, Jeff Jarow.
This year's Grand Marshal is Assistant City Manager Elaine Polachek, who is retiring in July after 27 years at City Hall ("Trailblazing Santa Monica Assistant City Manager to Retire," March 21, 2017).
A trailblazer who filled top management posts often held by men, Polachek currently oversees the day-to-day coordination, administration and supervision of 11 departments.
This year's parade is getting some paid professional help after City Council voted lasst month to allocate $2,000 in discretionary funds to the OPA to hire a professional coordinator.
It also set aside $5,895 in City expenses related to the parade ("Santa Monica's Independence Day Parade Gets a Hand from City Hall," May 25, 2017).
The parades typically features a wide variety of local participants, such as girl and boy scouts, local bands, service organizations like the Kiwanis, marching bands and politicians.
The OPA is looking for volunteers to help during pre-parade setup, during the parade and post-event tasks. All setup shifts will need to arrive at or before 7:30 a.m. and all parade-route volunteers will need to arrive at or before 9 a.m., organizers said.
For more info on OPA, a local neighborhood group, go to: opa-sm.org.