By Lookout Staff
June 15, 2017 -- Experience the process of art making in its various forms during "Out of the Blue," a summer cultural series that kicks off next week at the Annenberg Community Beach House in Santa Monica.
The series -- which features a different artist working on-site each month -- includes a "conductorless orchestra," cardboard yachts and an alien on film, according to officials of the Beach=Culture Program run by the City.
Other programs this summer include a bluegrass concert with banjo virtuoso Jayme Stone, an exhibition by Art Division and literary events with Red Hen Press and Writ Large Press.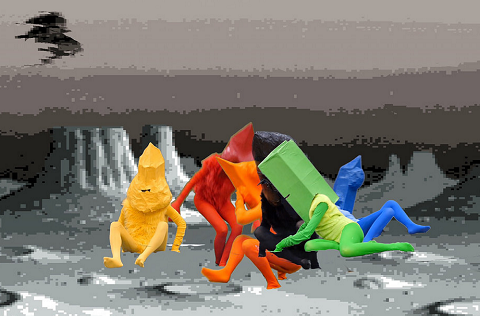 Still fram from Beck + Col's "Rainbow Face"
Out of the Blue kicks off Tuesday, June 20 from 10 a.m. to 1 p.m. when members of Kaleidoscope, a conductorless chamber orchestra, sight-reads a string quartet as it prepares for a concert at a local homeless shelter.
The orchestra will rehearse at the same time on Wednesday and Thursday. For more information about Kaleidoscope visit kco.la.
The series continues July 17-21 during various times throughout the week as artists Beck + Col work on a film tentatively titled "Rainbow Face! on Vacation." Find out more about Beck + Col at beckandcol.com.
"Colorful monsters can be found cavorting on the grounds of the Beach House, their stay punctuated by shared activities such as color-coordinated fruit dispersal, monster life drawing and mask making," program officials said.
Kiel Johnson's boat sculptures
The series concludes August 11 to 18 when sculptor Kiel Johnson's creates an all-cardboard rendition of W.R. Hearst's notorious yacht, the Oneida, officials said.
Visitors are invited to help assemble the sculpture, which will remain on display through the Beach House annual Cardboard Yacht Regatta on August 26. To learn more about Kiel Johnson visit kieljohnson.com.
Literary events include monthly readings by notable poets June through September with Red Hen Press (redhen.org) and a discussion series titled Value Statement, hosted by Writ Large Press (writlargepress.com) in August.
The Annenberg Community Beach House is located at 415 Pacific Coast Hwy.
Parking is available for $3 per hour or $8 per day. The parking machine accepts
cash and credit card. Ample bike parking is available.
The Annenberg Community Beach House is wheelchair accessible and ADA
compliant. For disability related accommodations, call Guest Services at
310-458-4904.
Resident artists track their progress through weekly updates at BeachHouseAiR.blogspot.com.