By Lookout Staff
December 18, 2017 -- A new Space Station taxi shuttle and a bounty of bright stars in the winter sky are among the featured shows at Santa Monica College's Drescher Planetaium next month.
On January 5, the planetarium presents "NASA Commercial Crew Takes Flight" a review and discussion of the first US-crewed test flights since the end of the Shuttle program in 2011, planetarium officials said.
The flight of the crafts "intended for use as crew 'taxis' to the International Space Station and to serve in 'lifeboat' roles" marks a "dawning of a new era in US spaceflight," planetarium officials said.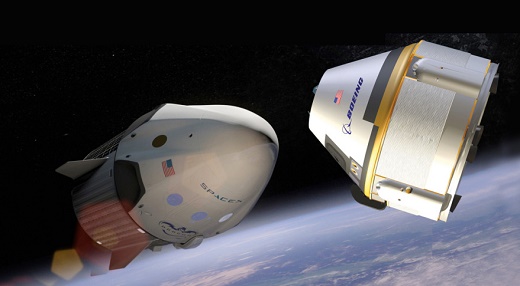 Rendering of Commercial Crew providers (Courtesy SpaceX)
NASA's two Commercial Crew providers -- SpaceX and Boeing -- are currently preparing for test flights in the next 12 months, according to SpaceNews.
The show will be repeated on Friday, January 26.
On January 12, the planetarium presents "Starbirth in Orion's Sword," which explores the Great Orion Nebula, "a massive complex of dust and gas that is an active star formation region," event organizers said.
"Recent discoveries reveal the hundreds of potential planetary systems forming within" the nebula, organizers said, adding that the January 27 telescope session will focus on Orion.
Orion also will be the feature of the special observing event "Orion, the Seven Sisters, and the Winter Hexagon" on January 19.

The show offers an opportunity to view "the bounty of bright stars in the winter sky -- including the constellations Orion the Hunter and the lovely Seven Sisters – through a variety of telescopes, with guidance from the planetarium's director," organizers said.
The feature shows are at 8 p.m. and are preceded by "The Night Sky Show" at 7 p.m., offering the latest news in astronomy and space exploration, a family-friendly "tour" of the constellations, and the chance to ask astronomy-related questions.
The John Drescher Planetarium is located near the elevators on the second floor of Drescher Hall, 1900 Pico Boulevard.
Tickets are available at the door and cost $11 (or $9 seniors and children) for the evening's scheduled "double bill," or $6 ($5 seniors ages of 60 or older and children ages 12 and under) for a single Night Sky or feature show or telescope-viewing session.
More information is available by calling (310) 434-3005 or clicking here.